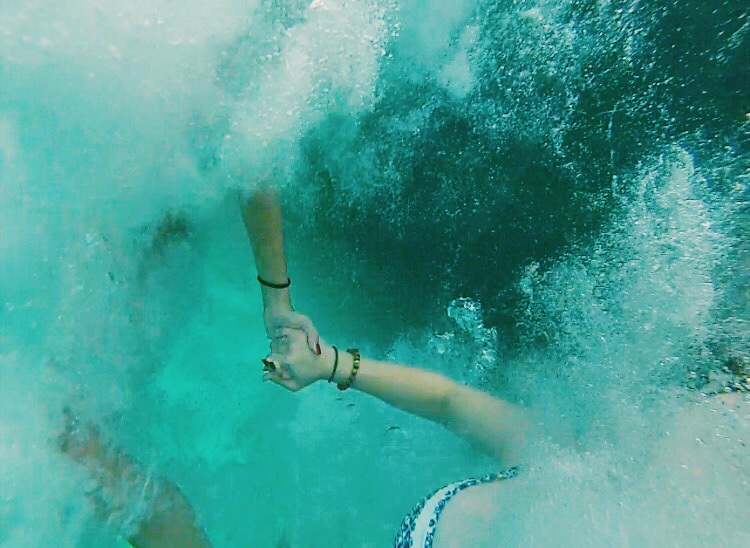 An Open Letter To My Best Friend Before Going Off To College
Dear Best Friend,
First, holy shit.
We made it through high school!
We made it through 6am mornings freshman and sophomore year on the swim team (how we met).
We threw scarlet-dyed baby powder in the air at kickoff on Friday nights.
We formed the hype at Prom, dancing relentlessly and sweating buckets, but shamelessly, we remained glued to the dance floor.
We jammed in the car every time we were on the road; from Hannah Montana to R.Kelly to Somo to Lil Wayne to Gambino, we belted out every word.
We had the luxury of traveling together. I will never forget packing our suitcases for Chicago. 'Does this looks like Serena? Yeah? Perfect'. (We are massive Gossip Girl fans)
We skipped pep rallies together to go to the local Starbucks. Most of the time, we ordered the same thing. (We gave them our GG names, obviously).
We screamed at concerts together. You quickly learned of my band obsession, as to where you attended 4 of their concerts with me, neon, glow-in-the-dark body paint and all.
We learned (or, attempted to learn) two-stepping together. Wild West. What a time it was.
We binged on reality tv and Netflix series, even though neither one of us had enough self control  to wait for the other to catch up on a season or two. Gossip Girl. The Office. TSLOTAT.  Kevin Hart. The Bachelor. The Bachelorette.
We were there when we both got our cars as soon as we turned 16. Soon following, we named our cars.
We did absolutely everything together, and I couldn't have asked for a better four year, high school experience.
Moving to Austin as I was freshly going into high school was simply terrifying. I had to leave my childhood home, the friends I'd grown up with, and I had never had to create a new beginning before. I was shy, extremely grounded, and risks weren't something I was accustomed to. I was satisfied with remaining stagnant in my comfort zone. I was carefully calculated and, like many other girls, I had/have a chronic case of the resting bitch face, so obviously making friends/new impressions was not always my specialty. Then I met you.
You were my polar opposite. You were loud, hilarious, open; friendliness radiated off of you and above all:  you were fearless. You had the biggest personality with a pure heart to match. After a few months freshman year, we were best friends. Joined at the hip, do-everything-together; besties. Freshly out of middle school (*sigh*) and so our new friendship was along the lines of BESTiES 4Ev <3 (and it still is).
Growing the last four years with you has changed me into a completely different person. I'm not as shy. I'm open for an adventure. I want to try new things. I like meeting new people. I have a thirst for the world around me… I wouldn't be the person I am today without you in my life. You pushed me out of my comfort zone. You helped me up when I fell. You motivated me to be better.
Sometimes I feel as if moving to Austin was fate's way of bringing us together. I have never had a friend I can be so honest with and who I can have the best times with. Laughter is the melody of our friendship, and it never ceases. Weird faces, random ideas, and questionable remarks are the foundation of the memories that we have made.
I can't believe we are at this crazy point in our lives. I'm filled with excitement and wonder but, sadness still finds its way in because I know I wont have you on my hip this year. Yes, you are a phone call a way but it will be different. We will make new friends, and new close friends. We will have new, crazy experiences. We will have different paths.
As we begin this new and exciting journey, we may be apart but I will still hold you dear in my heart. Five hours of two lane roads an interstate highways separate us but, I know that you'll think of me when you hear Walk The Moon on the radio.
I know you'll think of me when you spot a pair of friends "claiming" to be Serena and Blair.
I know you'll think of me when you see horses, because you'll never let me live down the time I took you riding and you almost got bucked off.
I will always think of you when I see a stubborn android user, because IPhones were always too mainstream for you.
I will always think of you if I see a fat corgi, or Sean Faris, because you passionately love both.
I will always think of you when I scroll past any Dragon Ball Z show while flipping channels because, about a year ago, I walked in your house to find you and your brother casting invisible dragon balls at each other.
I believe that soulmates are the ones made specifically opposite to you, who are the jagged puzzle piece to fit one's own, unique carved edge. I believe that true best friends are, soulmates. And you, are mine.
We grew together, we laughed together, and now we must begin the pursuit of our own, individual paths. 350 miles will separate us, but you will always remain my best friend, my soulmate.
Only a phone call/snapchat away,
Your Best Friend