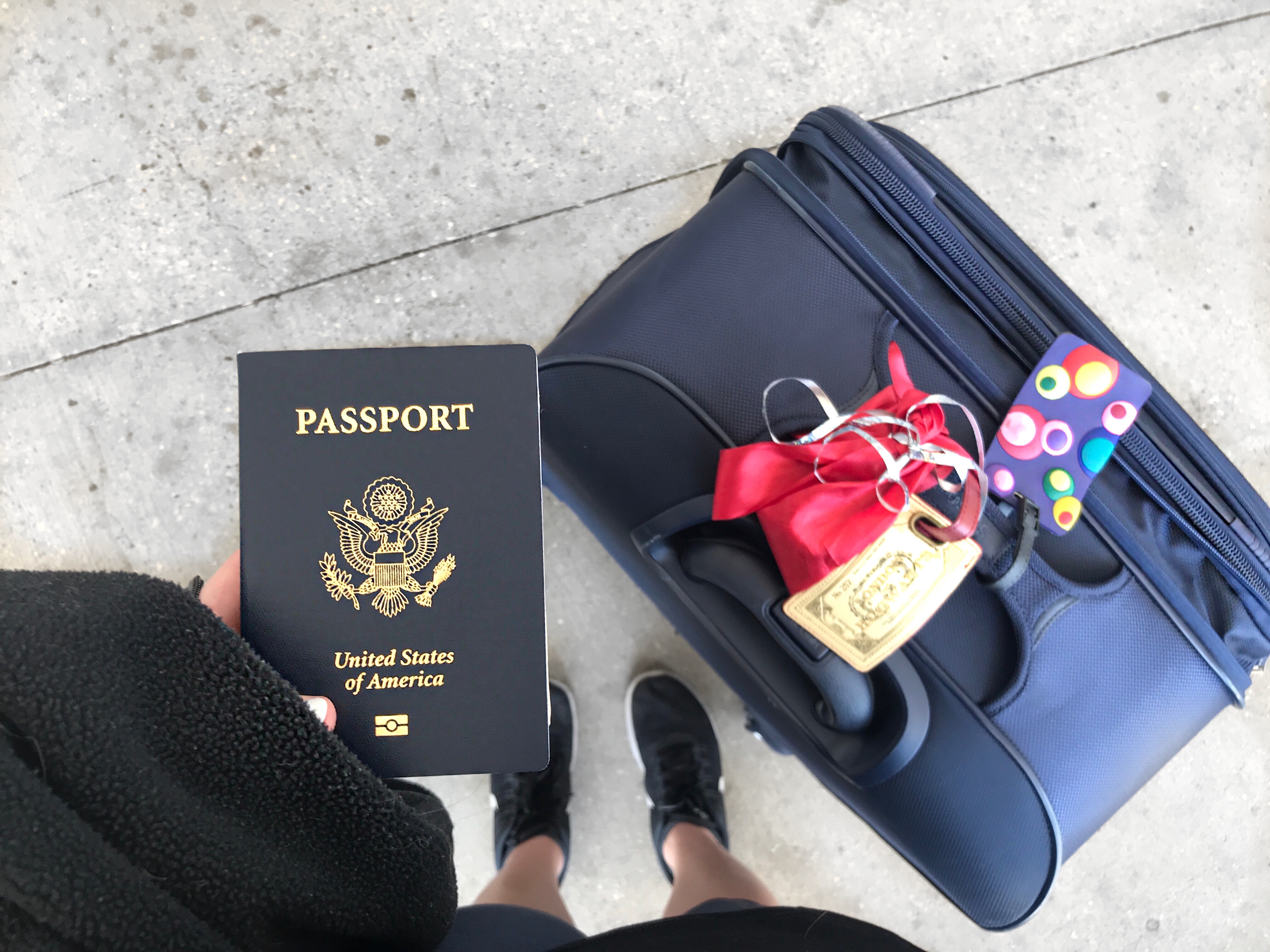 Day 1: Travel to Edinburgh
After filling up on a peanut butter and banana protein shake, I finished taking several items out of my suitcase (to lighten an overly packed bag… ahem… 45lbs) and stuffed them underneath my boyfriend's bed for safekeeping for the month. I showered, put on my makeup, French braided my hair, slipped into a comfy, black shirt and lulu leggings, and I was ready to go. As soon as my boyfriend got home from class, we loaded up my camera backpack and blue rolling suitcase (with Harry Potter bag tags) into the back of his car and before I knew it, I was on my way to the airport to begin my study abroad adventure.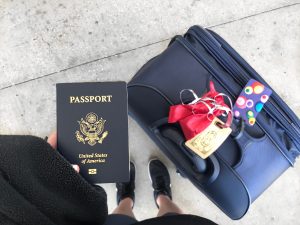 I had been waiting for this day for months. I stressed about it, watched How To YouTube videos about it, and pestered weathered travelers in my family with questions about every minuscule detail.
You could say that I like to be prepared.
At 12:45pm on June 5th, my boyfriend and I rolled up to the curb to Terminal D27 at DFW Airport. Now, I had never traveled internationally before, so going alone for the first time was a thought that was haunting me and taunting my mind with possible, bad outcomes. But I wasn't as nervous as I thought I would be and I was completely overwhelmed with excitement.
After a kiss goodbye, I stood on the curb waiting to check my bag. Sure enough, two girls about my age were saying goodbye to their parents, so I asked if they happened to be on the same study abroad trip as well. They were! Immediate friends. We navigated through checking our bags together, went through security and finally ended up at the gate to London.
Everyone, when traveling, has their little rituals they do. Maybe you always look out the window when you take off, maybe you always greet the person you sit next to. Me? I always watch my foot as I step from the gate onto the airplane. Today however, I completely forgot to do my ritual. I was so overwhelmed with taking in the fact that I was boarding an international flight for the first time that I missed my little ritual on accident. This was also the first time I had ever seen an international first class and dang do I want to travel at that level of luxury one day.
I found my seat towards the back of the plane: seat 34B A.K.A. the unfortunate middle seat. I stuffed my camera bag into an overhead bin in close proximity to my seat and sat, being unintentionally obtrusive with all my things that I was going to use for the time being: my phone, neck pillow, camera, headphones, water bottle and jacket. I sat down in my unfortunate middle seat, chosen particularly because it was one of the few that costed $0. A friendly gentlemen sat next to me, and I soon discovered he had three sons that had graduated from Texas Tech. A girl about my age (who was not on the same trip as me) sat on the other side, who probably hated me by the end of the flight with how many times I asked if I could take videos of the scenery out the window.
As I looked up from finally arranging all of my obtrusive knick knacks, staring back at me inside the seat in front of me was a screen, just for me. I was delighted to see that we had beaucoup de selections of movies (and good movies) as well as options to watch TV shows and look at the flight pattern information. I may not have been in first class, but I was in my own world of luxury. I had never been on a plane with individual, selectable movies before… not to mention one with touchscreen capabilities!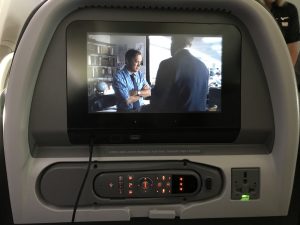 My world of luxury began to fade as the hours wore on and my seat only seemed to recline a quarter of an inch. It was only 5pm, and I wasn't tried at all. My handy melatonin was tucked away in my bag and getting it would be an ordeal, so I left it and decided it wasn't as handy after all. I scrolled through the movies and began one I had been wanting to see for a while; The Post, starring Tom Hanks and the icon herself, Meryl. It was good, but after the movie I still wasn't tired. After a while of mentally debating whether or not to get my melatonin, my mind snapped to the next best depressant: alcohol. I tapped the friendly old man next to me and asked 'Excuse me, do you think I have to wait until I am over international waters to be able to order a wine?' He laughed and said 'I think it's fine, I can just go grab you one.' Sure enough, a few seconds later the gentleman returned with a full, plastic cup of red wine. I thanked him profusely and then watched the Avengers as I finished my cup. Sure enough, it did the trick. My fingers and toes were no longer cold and I could feel a sweep of fatigue wash over me. I fell asleep listening to music for about an hour or two, but after I awoke, it was hard to return back to my peaceful slumber.
I swiped the movies and began Downsizing, which I thought was mediocre and not particularly one of Mr. Damon's best films. I watched the movie until the sun began to rise (which was strange because it had only set a few hours before). The PA system overrode all the programs and the pilot finally announced our initial decent into London. Invading my neighbor's personal space, I peered out the window as we passed through the puffs of cotton clouds. Suddenly, the world came into view and pastures rolled underneath us. It was then that it dawned on me that this was my first glimpse of international land. London came closer and closer until finally, we were walking off the plane and relocating to another terminal. As we walked through he airport, I noticed the amount of stores selling designer bags and clothes, as well as a singular store that was dedicated to Harry Potter. Unfortunately, we didn't have time to stop, but I smiled, excited and knowing I was meant to be here. A part of me wishes we had more time in London, so I could explore the city, but it is an adventure for the future.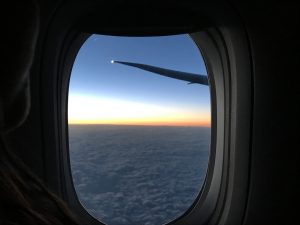 After passport check and an ordeal to prove we were on a study abroad trip, we were through security and heading to Heathrow's gate A8. I scanned my boarding pass on my phone (hello 21st century) and the clear glass doors opened for me to board the plane from London to Edinburgh.
Now, I watch as Mauve from Westworld, Gordon Ramsay and the man who plays Gandalf are featured in a safety guidelines video, seamlessly walking us through directions in their eloquent accents on my British Airways flight. I may not have been so lucky before, but I am now sitting in a window seat. Bright, puffy white clouds graze below us and my ears are popping from the pressure.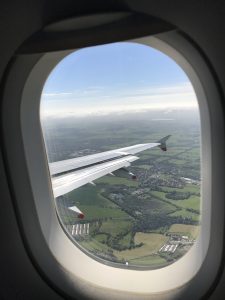 A tip I got from my kind seat neighbor earlier, was to stay up all day today without sleep and crash on the local Edinburgh time tonight and to take an Airborne if I start to feel bad. So, when we get off this flight, my professors and fellow classmates and I are going to go get our checked luggage (currently praying that mine made the trip without problems) and then get on the bus to head to our first hotel. The rest of the afternoon is free so a new friend and I are going to seek out a Harry Potter store.
I just peered out the window and all I see is luscious green. Even from here I can see the rolling pastures and virgin lands, untouched by harmful pesticides and urbanization. It is beautiful and I am getting more and more excited… even though jet lag is currently plaguing my body.
The flight attendant just announced we are landing in 10 minutes, so I have to stow away my laptop. Is it just me, or does everything sound more beautiful in a British accent???
More tomorrow,
Xoxo
-Emily
P.S. We checked into the hotel and had some time to kill, so some of my new friends and I stopped by a pub and had a pint after exploring the city. The streets are filled with aged cobblestone and high cathedral arches that seem like they touch the clouds. The air feels cleaner and fresher and I am so overwhelmingly happy that I am actually abroad that the jet lag hasn't hit yet… although I am sure it will later. Edinburgh, I can get used to this.