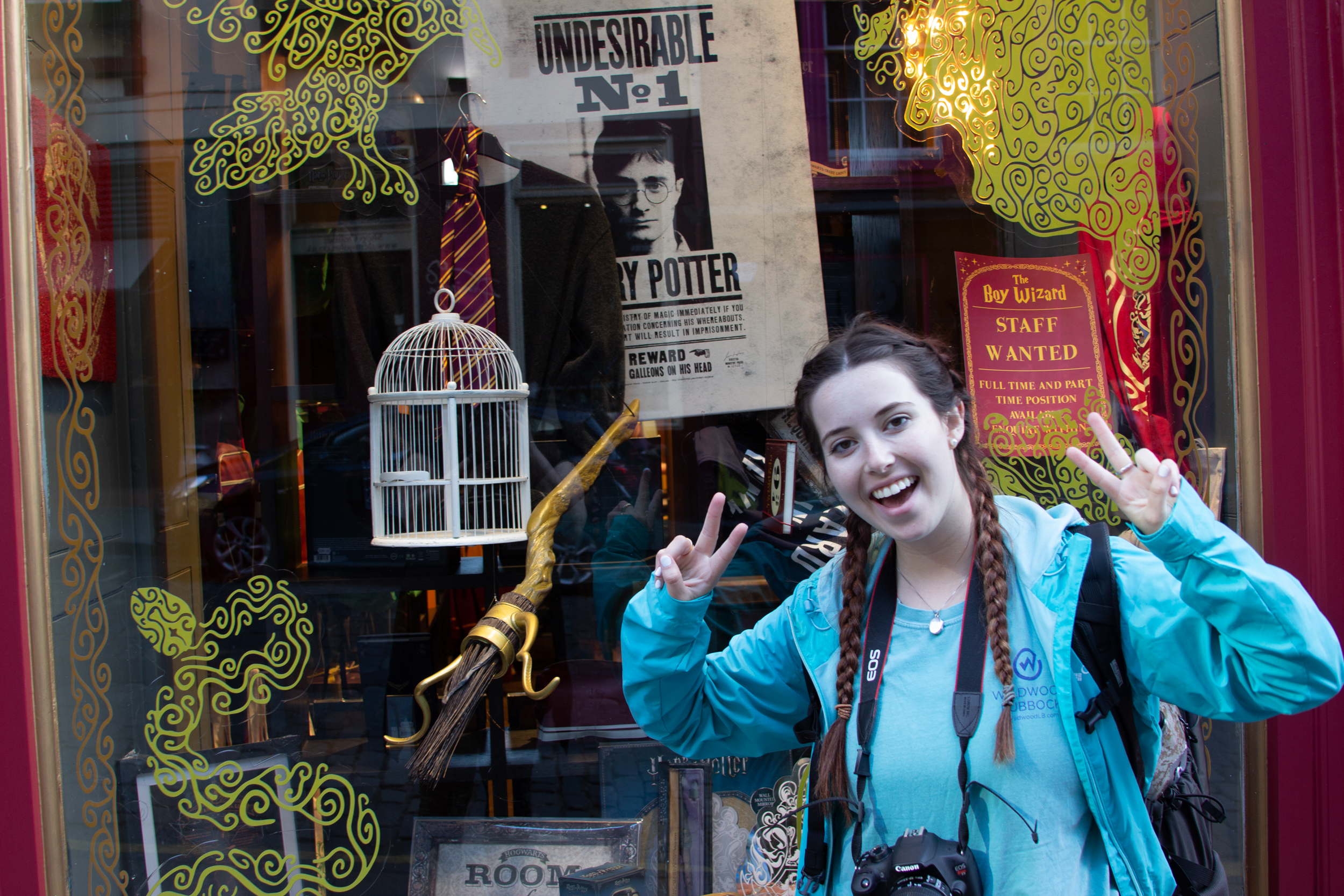 Day 2: Wednesday, June 6
After getting off our final flight, we got our checked baggage and were greeted by our adorable, aged tour guide by the name of Bill. He was dressed in a traditional, green Scottish kilt. He also wore dark green socks that stopped just below the knee. To top it off, he had a very traditional scot accent and a crooked, easygoing smile. We loaded onto a bus and drove from the Edinburgh Airport into the city, passing the luscious green countryside. Driving on the opposite side of the road was quite the trip as well. After about 20 minutes, we stopped at a bus stop on Princes Street, a busting main road going straight through Edinburgh. We walked about four blocks, suitcases and overstuffed backpacks in tow to our hotel, the Mercure, that resided on Princes Street as well.
It was about noon when we finally dropped our things in the hotel. We ached from lack of sleep but it was so early in the day that a lot of us decided to stay up until it was time to go to bed later. Groups were formed and we were off to explore the beauty that was the city. Up the countryside proudly sat Edinburgh castle, reminding me of Hogwarts as it was above aged rock and he city.  We walked up to the Royal Mile and satisfied our craving for an authentic pub called Ensign Ewart. It was small and cramped, but we found a table in the very back, stuffed away from the locals: perfect for a group of loud, Americans excitedly getting to know each other in the new environment.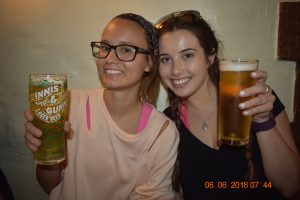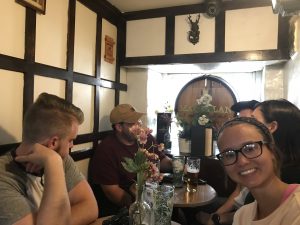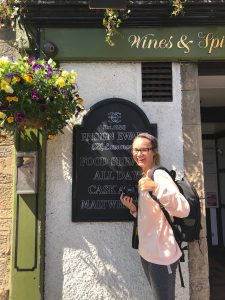 We had a beer, some of us a bit more than others (I had a pint of Innis & Gunn followed by a Plum & Vanilla gin and tonic because gin is HUGE here), and then continued to explore about the city. We went and exchanged our money at a bank and ventured down Rose Street, which is a cobblestone road in between buildings you can only get to by walking. On the street sits a plethora of pubs and boutiques to peer into. Dancing over the beautiful valley are pink flags that have little white, rose emblems on them, marking the street as its own. We also discovered Victoria's Street, a curved road a block away from the Royal mile, where J.K. Rowling found her inspiration for Diagon Alley with its variety of bright colors. The obnoxious Harry Potter fan inside me was bursting with excitement. As I sit typing this, two days later, I can tell you I have been back to that road 4 times.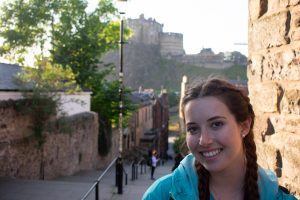 20,000 steps later and hours of exploring Edinburgh under our belts, we met back at our hotel at 7pm to depart for our welcome dinner. We were given bus day passes and boarded the double decker city bus that took us to our seafood destination, First Coast. The wavy blue letters of the restaurant sat on white background, highlighting the fact that we were close to the water. Our 24-person group (22 students, 2 professors) sat at a long, wooden table in a private room for our three course meal. I began with gluten free bread topped with a spread with the name I can't for the life of me remember, followed by coley with basil leaves and mashed potatoes and finally ending with a vanilla ice cream with chocolate glaze for dessert. I tried my friends' caramel chocolate tarte and it was amazing as well.
After being up basically since I left for Scotland (more than 24 hours), I was fighting the urge to sleep as I leaned against the wall of the restaurant. It was close to 10pm when I realized it was still light outside. I later found out that Scotland, is latitude and longitudinally higher than Alaska and the tip of it reaches the lame height on the globe as the beginning of Sweden. This means that night time is around 11pm here and the light returns around 4am. Luckily, I brought an eye mask and our curtains are black out, so I am as prepared as I will ever be.
xoxo,
Em