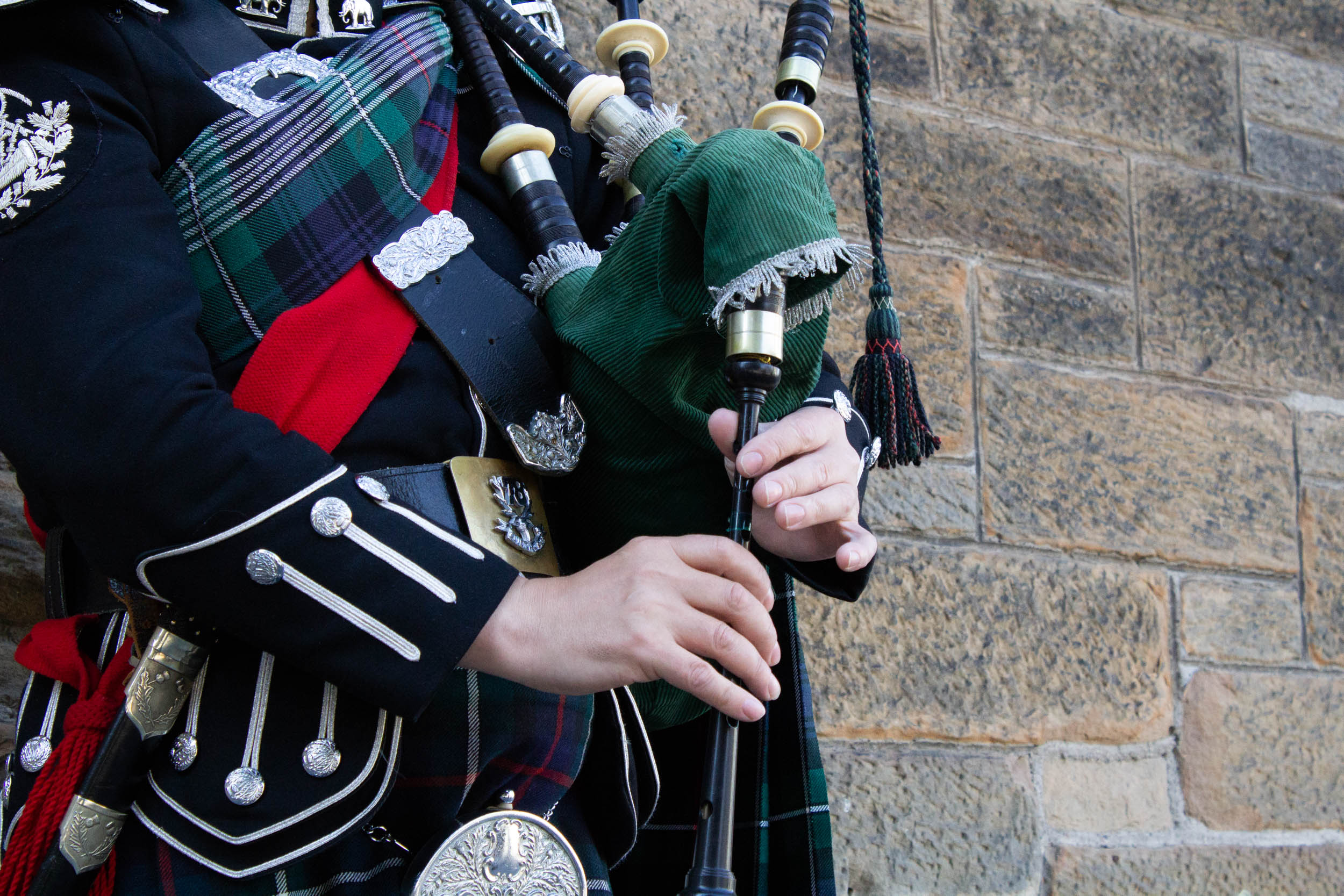 Day 3ish: Exploring Edinburgh Castle & the City
I woke up abruptly to my 7:30am alarm to get ready for the free hotel breakfast at 8am. My friend and I got to the dining area a few minutes early so we treated ourselves with the rest of the guests. For breakfast I got some eggs, watermelon, a white melon I don't know the name of, a banana smoothing made with yogurt I took one sip of and put back down with disgust, potato fritters, ham I had mistaken for bacon, a poached egg I tried for the first time and disliked and a tomato, which I found out was a popular breakfast item.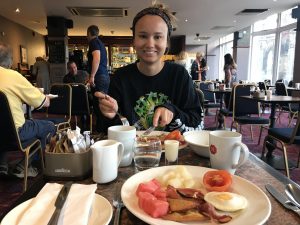 We changed and departed the hotel with our group to a classroom on the other side of town. We discussed how to work our cameras (for the most part) including ISO, aperture and F-stops. Four our other class we talked about our vlog assignments and tourism in Scotland as a whole. At noon we had a break until 2:45pm so we walked around until we ended up at a restaurant/gin distillery called 56 North. I ordered a classic mojito which ended up being the perfect refreshment to the day. We had to meet back up with the others at 2:45pm (and they dock points for tardiness) and it was 2:20pm and we still hadn't gotten our food.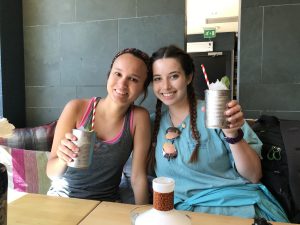 As the stress set in, we finally got our food and the presentation was sublime. I felt bad it was so beautiful, so I took a quick video of my avocado spread on a gluten free bread and then inhaled it and caught an Uber to the castle. Our driver could only get so close to the monument, so he dropped us off at the foot of a hill and we trudged up the cobblestone road to meet our group at the castle.
We made it on time (a miracle) and entered the castle to explore at our own leisure. We saw the home of Mary Queen of Scots and where her son was born, as well as a war memorial, the oldest building in Edinburgh and the crown jewels. Our tour guide said that there is a piece of sandstone that sits beside the crown jewels, and every time there is a coronation, it is transferred from Edinburgh to England due to the luck it brings. The last time it was moved was in the 1950's when Queen Elizabeth was crowned.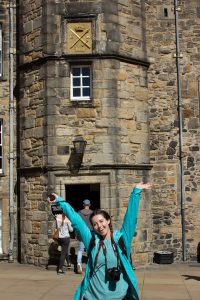 My vlog group, Team Lannister (lol) filmed our vlog project at the castle. This week it is about tourism and Scottish culture and one person shoots and edits, one is behind the camera, and the last writes the script and the group rotates positions every vlog (5 total). We have daily readings that go along with this for our Travel Media/Culture class. Our assignments in out photography class are a two page photo proposal and photo submissions every few days to convey our Adobe Lightroom skills and our effort and participation. Here are some of the photos I submitted for the first photo submission: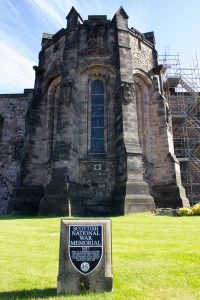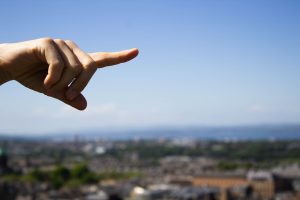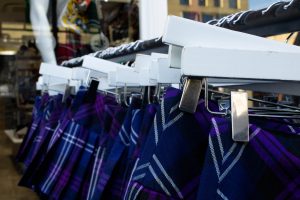 We had the rest of the day free so we walked about the city more, getting a feel for it. We discovered The Elephant House, where J.K. Rowling wrote the first few installments of Harry Potter and also visited Greyfriar's Kirkyard, which is the most beautiful cemetery I have ever seen. We saw the names where she got inspiration for Murray, McGonagall, Moody and Tom Riddle. The stones were aged and some of the writing had disappeared, but the green grass and light shining through the dew made the yard all the more beautiful. Sunlight poured into the yard and radiated the dewy grass, creating a luminous glow. For a yard filled with death, it seemed enchantingly alive to me.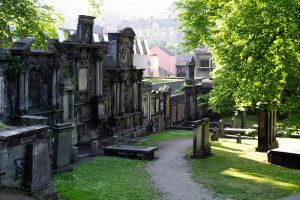 Our hunger grew with each twist and turn we explored, so my group and I found ourselves trying to find a pub that didn't have a wait and wasn't completely filled. We walked in to (I kid you not) 8 different places before settling at a pub. We ordered a round and I scarfed down my chicken pot pie after a couple rounds of Cheers to the Governor (thank you Adella for the game).
After dinner, we dropped off our things as decided to be college students for the night and take advantage of our legal drinking age. We hit a few pubs and clubs and danced the night away (even though I was wearing a t shirt, leggings, my fanny pack and finally, both my jackets obnoxiously tied around my waist).  We began the night at a Frankenstein pub and ended with us all safely returning to our hotel, satisfied.
xoxo,
Emily
P.S. There is always a sound of bagpipes being played whenever you are on the Royal Mile.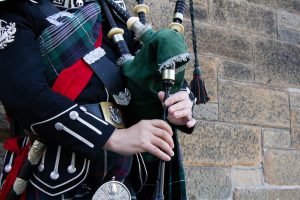 Also, there are these little "closes" in between buildings  that are steps that lead down to more beautiful areas to be discovered.
And water isn't free. But the good news is that beer is usually the same price if not cheaper.
Cheers to another day in Edinburgh!