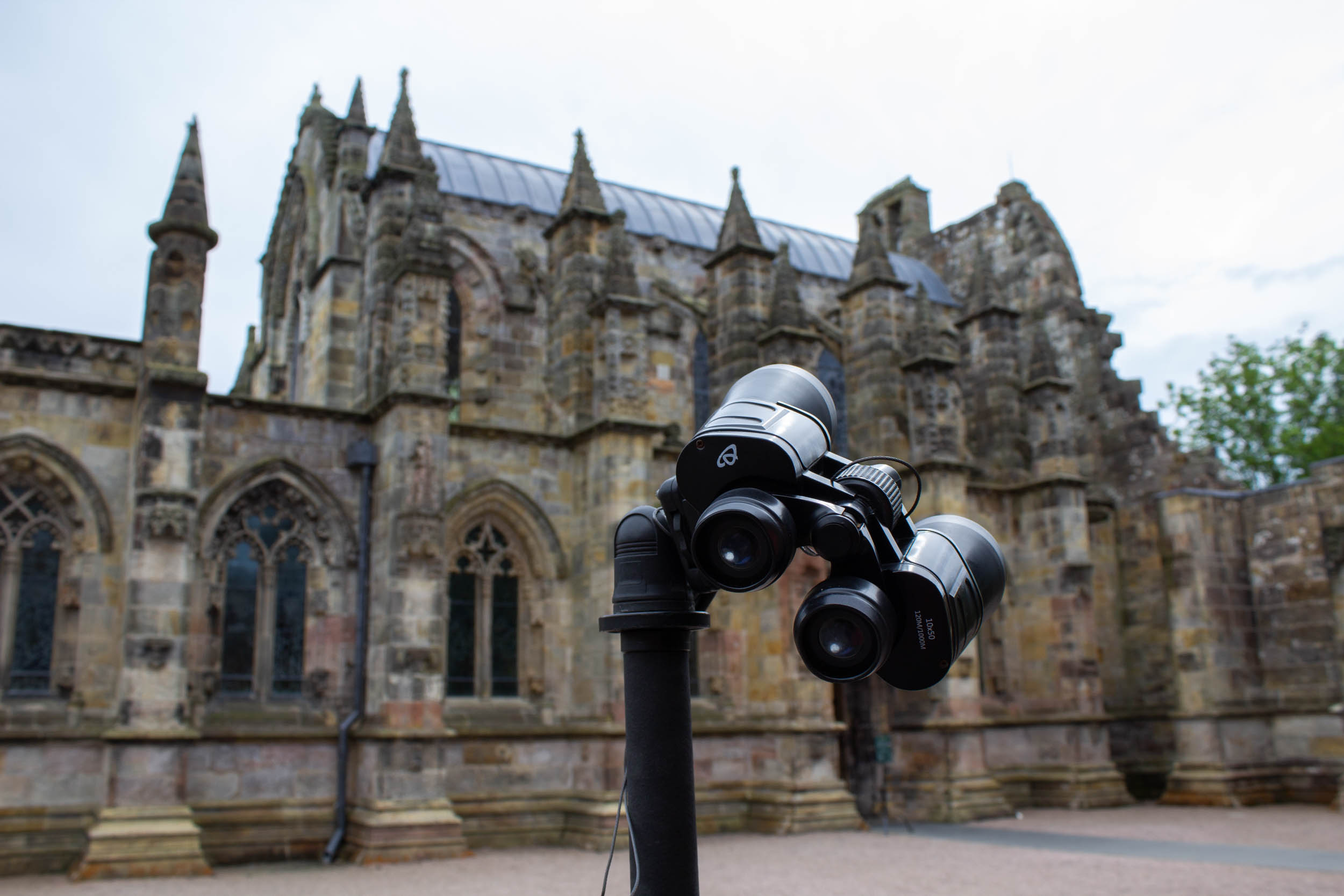 Day 5: Class & Rosslyn Chapel
It was super hard to fall asleep last night. I was up until 1:30am catching up on my blog before I finally took a melatonin. Ironically, I woke up this morning at 6:30am, looking out the window to see broad daylight. I didn't know I had woken up 30 minutes early until I looked at my phone. I decided to work on my project and use the time to go through some more photos before the WiFi became questionable again. I worked on my homework for a few hours last night, navigating through Lightroom to go over my photo submissions. I wrote the first page of my photo proposal, which I decided to focus on Harry Potter and how it interacts with the increase in tourism. I am a little stressed though because most of, if not all of the Harry Potter stores and Knick knacks are here in Edinburgh, and we are leaving tomorrow. Tonight I am planning on taking a long exposure picture with my tripod in front of a store with Scotland and HP mercy sitting in the window. I think I have enough photos, but we will see.
After I woke up, my friend and I went to breakfast and filled ourselves up on the exact same breakfast we had consumed just two days before. At 8:30am we met in our hotel lobby and headed back to the classroom we reserved for two hours. My professor talked about photography and how to make a picture better, but a lot of the class is going out and shooting for ourselves. Messing with the ISO, aperture and F-stop is something only learned with practice. The exposure of a photo can change in a shadow of an instant, and we are learning how to adjust ourselves to the scene and still be able to take a good photo. We are required to shoot in raw, so the files are bigger and if we want them to become jpegs, we have to export them as so in Adobe Lightroom. For someone who has already taken hundreds of photos (and I haven't even been here 4 days) this is a process. Hence, why I have yet to post photos to Facebook or Instagram in a timely manner.
We had some free time after class so my group and I ventured to The Elephant House, as I had mentioned before was where J.K. wrote some of the early HP novels. I enjoyed my chicken pot pie and was in and out of my seat, taking picture after picture of the popular spot. Elephants covered the walls and child drawings of HP characters filled one of the walls. In the bathroom, Harry Potter scribbles from fans cover every inch, and I mean EVERY inch of the surfaces. Every color can be found with a different quote or name from a fan who loves HP just as much as I do.
After seeing the hotspot, we walked around to Victoria's Street to see another HP store. Sure enough, I was right. Harry Potter was completely commercialized as the Scottish kilt was. I took many pictures of this beautiful store but somehow left, forgetting to purchase a butter beer. I am hoping a restaurant will have one tonight, if I do get done with my work in time for a scrumptious dinner.
We met back in the hotel lobby by 2pm and got on the bus to take us on a 45 minute ride (that I slept the whole way on) to Rosalyn Chapel. The chapel was built in the 1400s and is the setting for the end of the film, The Da Vinci Code. No, there was no secret door or 6 point star, but there was ancient and beautiful carvings in the sandstone.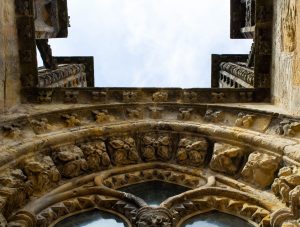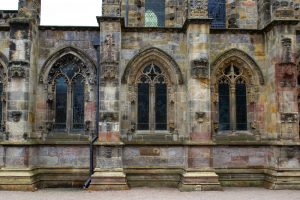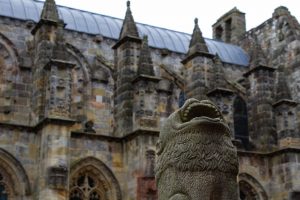 Unfortunately, pictures and videos were not allowed inside the chapel, so I took as many photos of the beautiful outside as I could. The arches that hugged the stain glass window was a different pattern for every window. Some had strict points and others had swirling designs. Faces were carved into some of the onings, but time and weather had worn them down to a vague outline.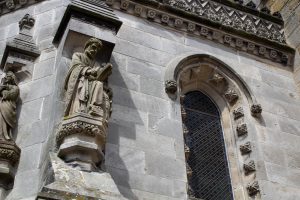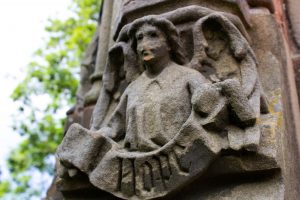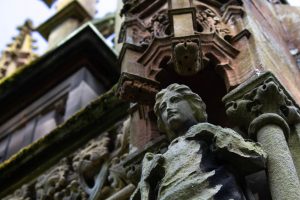 Since there were no photos allowed inside, I am going to stretch my writing skills and hope I can describe it enough to it's true justice.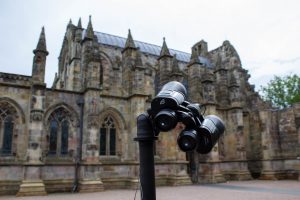 Walking inside, the first thing I heard was the tour lady speaking about the restoration of the castle. The building felt as if it were four stories high of just one room, but grand in every way. Artists must have spent hours carving each available stone, as they were all intricately shaped and curved. Faces were carved into corners, and the ceiling of the high arches were covered in square, stone flowers. Some were Daisy's and some were roses. The white, gray arches felt strong and reassured with the time they had already spent standing, and the stain glass was vibrant with color. The chapel was filled with detail, down to the last inch. I was marvelous and I couldn't help but wonder how many hours and years were spent perfecting this magical and old chapel.
The chapel was built to be in the same shape of a cross. Accompanying the chapel was a fat and lazy black cat with white socks names William. William layed in the bushes out of the suns sight, enjoying his day as some of my classmates pet him into a slumber. You can buy a stuffed version of William in the gift shop, 30 yards away from the ancient chapel.
I have left my laptop back in the hotel room, so I am typing this on my notes in my phone. We're on the bus back to the hotel now so I am going to stop before I get motion sickness.
I'm back! We got dinner and I had the full intention of staying inside. I was exhausted and I wanted to work on my blog and personal works after I finished my proposal and vlog for my classes. I walked to a rotating sushi restaurant and got a Cali roll and veggie tempura (yum). I got back, ate, worked a bit more, and then went out with my professor and classmate to shoot long exposure photos of the city.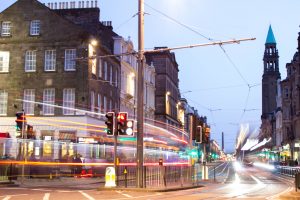 It was really cool to learn how to do that. In these past few days I have learned more about my camera and photography than I have in the 20 years I have lived.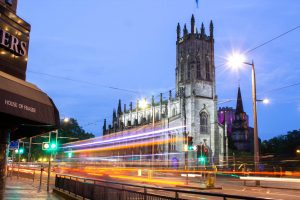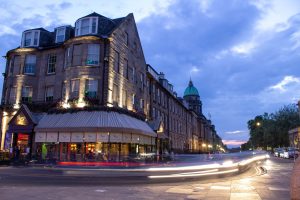 The city was bustling and crowded with drunken Scots. The Rolling Stones had put on a show earlier and there were tons of fans hitting the pubs afterward. The city was packed with people. It was midnight when we got back to the hotel but I still had too much energy to simply fall asleep. A group of us met our other friends at  pub not far from our hotel, and we danced the night away once more, thoroughly under dressed.
xoxo,
Em