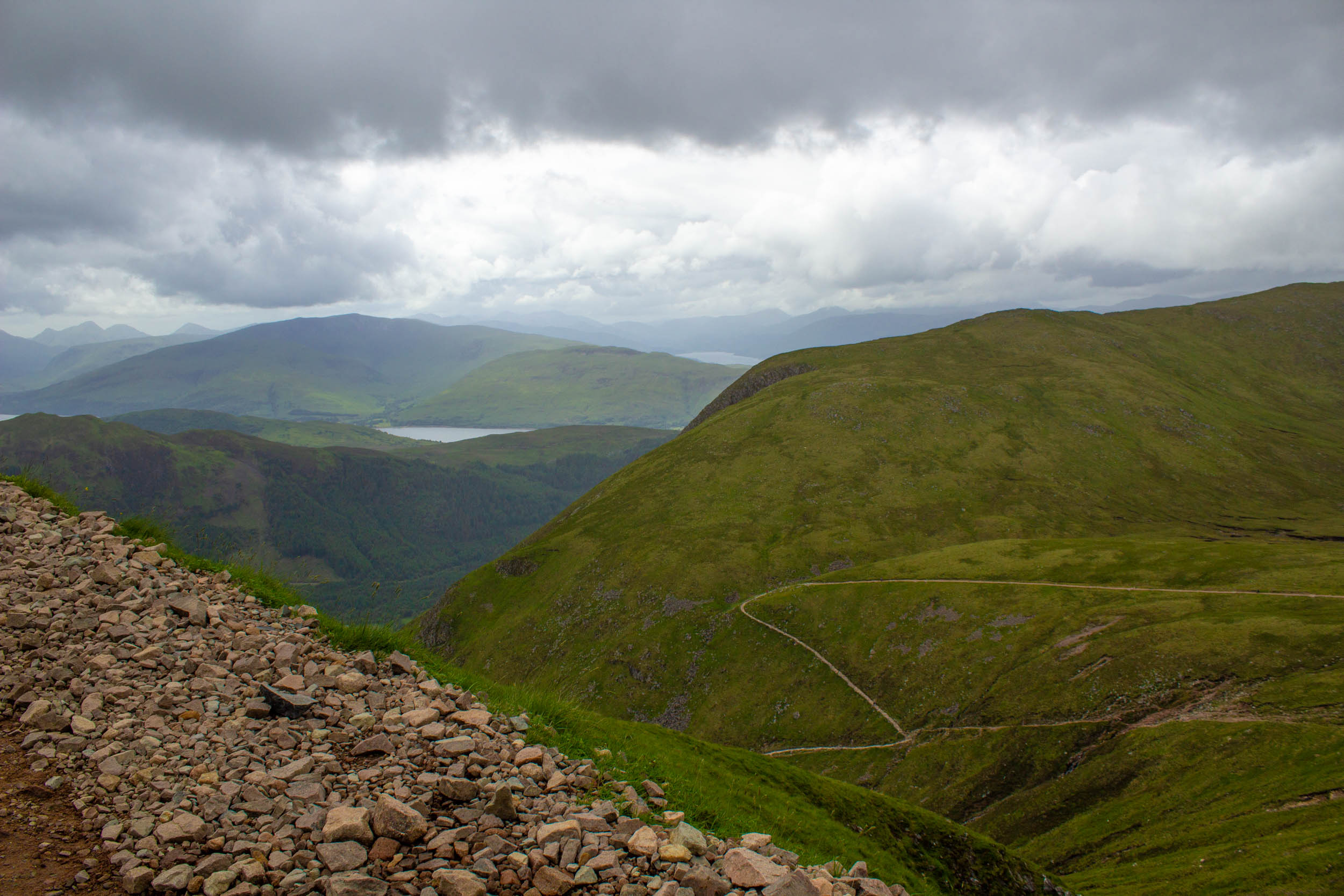 Tuesday June 19, 2018
SPOILER: I made it up and down the mountain in one piece. Are my knees throbbing? Yes. Am I sunburned? Absolutely. Was it worth it? Yes, only because I can brag about the fact I hiked the tallest peak in the United Kingdom to Americans back home. As cool as it was, it was hard for me personally to fully enjoy just because I spent 90% of the time staring at my feet trying not to trip and fall, as I did several times due to my baggy waterproof slim shady like pants and incoordination.
I set my alarm for 6am, which I completely and deliberately slept through until 6:30am. I got up, but on all my layers, double checked my water and packed snacks, and headed down t=for the hotel's complimentary breakfast. I had gluten free toast with jam, and hash browns and two bites of eggs, and I was full and ready to go. We were on the bus for about five whole minutes from our hotel to Ben Nevis, where we met our three, fit tour guides and went over some instructions. It was then that I knew this was a very real hike. Not a mosey on up, leisure hike, but a I-need-walking-sticks-and-many-layers serious hike. The anticipation and intimidation had been killing me the whole trip for this day, so I, at that point, was just ready to get the damn thing over with. I knew it was an 8-hour hike and that it was primarily an ascent to the summit, but my brain had no idea the mental obstacles I had to break through to actually touch the cement summit.
The beginning wasn't so bad, walking uphill on a gravel trail ascending past small farms. We got to one of the first stops and I sat on a bench, panting and gulping down water. Our guide informed us that the glen below was the setting for the first scenes in Braveheart, when William Wallace was a young boy. He also mentioned that the area was the setting for a Harry Potter Quidditch match in the movie, but when I asked which one he didn't know.
We continued up the trail and that is when the steps began. I dreamed about sitting at that bench again for the hours following. We rounded a mountain and our guide told us that is was called "The windy turn" or something along the likes of that. He was right. As we rounded the corner into a vast, green valley, the wind picked up and almost knocked me over. Everyone else started layering up but I was sweating and red faced, too hot to be putting more clothes on. We climbed (yes, I am using the word climbed because I sure felt like I was with al of those steps) for about an hour more until we reached a waterfall that ran through our trail. We stopped and ate the packed lunch our hotel, the Bay Continental has made for us, even though no one had gotten what they ordered. I had ordered ham and cheese but somehow end up with lettuce and tomato, but I didn't care. I was ravenous for food. I ate my sandwich happily and drank some water. Our guide refilled his water bottle from the stream and I was baffled. Never have I heard about drinking straight from a stream in this day and age, but we were so high in the mountain that it was untouched by human nature. I refilled my bottle and it was the BEST water I have ever tasted. Maybe because it was cold or maybe because it was entirely fresh, but it was amazing and refreshing and the perfect recovery sip I needed to continue.
After the waterfall, we started up again. I noticed that the gravel was beginning to change into rocks, more steps, and then more rocks. This grew more and more normal as we climbed closer to the top. We started through a part Dave, our neon guide, called "The Zig zags" which consisted of eight zig zags to climb higher. This was the part I loathed. For someone who is uncoordinated and clumsy 90% of the time, this was a real feat for me. I was terrified and tripped over my own two feet and baggy, slim shady like waterproof pants all the way up those zig zags. I felt as if my backpack was growing heavier as my fatigue heightened. My clothes were wet with sweat so I grew colder as we ascended. After a while, our view of the ground below was lost in the thick of the clouds. The rocks got more slippery and daunting, and this is when I started taking walking sticks seriously. I had always thought of them as a joke until the moment I started wishing I'd had some to take the pressure off my legs, and particularly my knees.
The 8 zig zags ended, and we were on the last leg of the ascent. It was freezing, I was wet. It was rainy. I had lost the feeling in my nose and cheeks and I wished for a face mask on top of those hiking sticks, and maybe a warm cup of coffee. The group I was with was gone from view and I was trudging in the back with another tour guide and my professor, who was giving me encouraging fist bumps all the way up the mountain (shout out Dr. Peaslee that was very helpful for me thank you!). We trudged up through snow (SNOW!!!) and that was so cool to me. We had literally been through almost every kind of weather going up that mountain. This was when I realized the importance of layers and thorough preparation. After 30 minutes and the last 60-meter ascent, It came into view. The summit was a cement block on hop of a small hill and everyone was red faces and taking pictures. I felt like death but I still went to the cement blog and thrust my hand on the surface valiantly. I took a photo with a big smile on my face, knowing I had just hiked to the tallest peak in the United Kingdom, Ben Nevis. I was proud, and I couldn't wait to brag about it to my mom later.
After some photos and about 10 minutes on the cold, cloudy, windy and wet summit, we began our way back down the great mountain. Leaving, I realized a rock formation on the top of the mountain. My professor informed me that it was a hotel at one point, in the early 1900s. This struck me because I could not imagine someone in their right mind wanting to stay the night or even an extra 10 minutes on the frigid summit.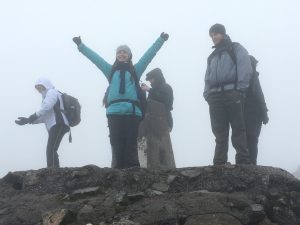 We didn't take as many breaks getting down, and it took about half the time to get down than it did to get up the mountain. In the end I learned it took me 5 hours to make it up, and about 2 or 3 hours to get back down. Even though climbing the mountain was painful on my legs, I think the way down was definitely more painful, especially on my knees. Climbing down thousands of steps definitely took a toll on my calved for the following days after this hike.
At the end, I nodded a goodbye to Dave, our neon tour guide, and used the last of my determination and energy to get myself to the pub waiting at the bottom of the mountain (which was a genius Idea). I ordered a pint of something I didn't even care to know the name of and a burger that I basically inhaled. Full & happy, we made our way back to the bus to take us back to our hotel.
Once at the hotel, I immediately showered and sat with my friends near the stage, listening to the hired singer sing "Sweet Caroline". We all exhaustedly bellowed our the chorus and after another pint (graciously bought by my new friend Camden as a Congrats-you-made-it-up-the-mountain drink) I retired to bed and immediately fell asleep, proud after a full day of climbing the tallest peak in the UK, Ben Nevis.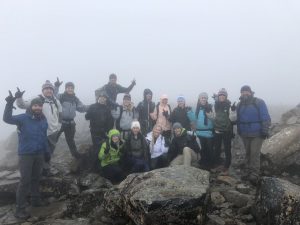 Tired, sore and sunburned,
Emily