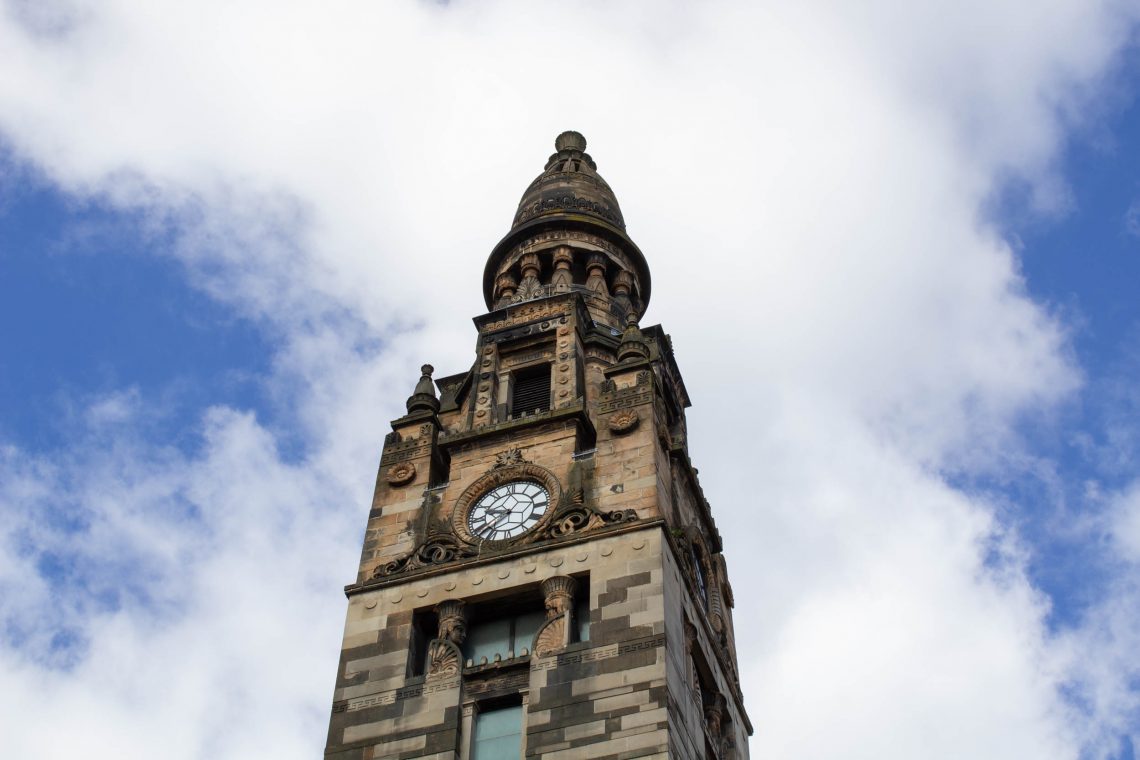 Day 16: Oban Distillery & Glasgow
I think the professors or whomever planned the trip put this day here on purpose, and for that I was slightly amused and thoroughly grateful. The day after we hiked a mountain, we gathered our things in the hotel lobby to venture to our final Scotland destination, Glasgow. However, we had a wee stop in the middle that was much needed and very satisfying.
After about an hour on the road, we pulled into a small city by the name of Oban. My friends and I grabbed some lunch at an expensive seafood restaurant and then headed to meet our class at the Oban Distillery for a single malt scotch whisky distillery tour. That's right. A whisky distillery tour. With our professors. I was hyyyyyyped.
Once again, we succumbed to the "no photos or video" policy and had to power off our cameras. We began our tour with a very thorough guide, who asked several times if we were over 18 years of age, looking at my friend Madison who rolled her eyes.
Beginning the tour, I was immediately struck with the scent. It almost gave me a headache walking through, but we were taking in long scents of wheat. I felt like I was basically swimming inside a loaf of bread the odor was so strong. We walked through a door into the first room, where we were asked to inhale a small glass of gold colored whisky and identify if it had a sea salt, orange, honey, or smokey scent. I am not and have never been an alcohol connoisseur, so I sniffed in the strong scent and passed it, still having no idea. I thought it could be honey, but our tour guide eventually told us that it was in fact a mix of all the flavors.
After that, our tour guide led us into several different rooms, that all had to do with the different stages of making whiskey and of course were too filled with the overwhelming scent of alcohol and wheat. It was hot and humid in distillery rooms as we passed through the different phases of making whiskey. I was honestly just excited for my expensive shot of whiskey and free glass that I later gifted to my brother.
We learned that this distillery offers a three-year scotch whisky and a 14-year scotch whisky. This was also when I learned the difference between a single malt and a blend. It was very interesting learning about the processes about the distillery working with the government about tax on the percent of alcohol in the barrels they store the whiskey in. Ironically, this little distillery used American wood and I found that the longer the barrels held the whisky, the more the alcohol percentage drops.
My favorite part of the tour was when we were given both a taste of the three-year single malt scotch whisky and the fourteen-year-old single malt scotch whisky. I wish I knew more about alcohol in that moment, because my friends and I clinked to Slainte Mhath (which I just learned how to type correctly) almost as soon as the glass was placed in our hand. The older scotch was smooth and warm going down, which I assume is a good thing in contrast to the Titos that makes an occasional appearance in my apartment in Lubbock that doesn't go down quite as easily.
A lot of people bought bottles but I was still underage in the states and I knew I couldn't bring it back without trouble and I don't know enough about whisky to enjoy it like a true alcohol connoisseur-ing adult. Plus, I had the free glass and that was just enough for me.
We walked back to the bus and it took us to a bigger city in Scotland: Glasgow. This place was really fun. It didn't quite match up to Edinburgh, but it was more city-like than Inverness. It was like the Austin of Scotland and it was truly a vibe.
My friends and I went out to dinner at an Italian restaurant where they soon learned of my love for parmesan cheese. Here's the story they will never let me live down: I simply asked the waiter to leave the parmesan bowl at the table (like one would do for a bottle of ketchup with fries) but my friends thought this was the craziest act they had ever seen and still to this day (I am writing this on the plane back home making the most of a 9-hour flight) will NOT let me live it down. What can I say? A girl just likes her cheese.
After our dinner and half a parmesan bowl later, we were out on the town. We began at a low-key club and then moved on to a louder club, where we left not long after because we were incredibly underdressed and 3 layers of makeup away from being considered acceptable. We ended up at a pub where we laughed and drank the night away. Being the old person I am, I retired early, having one of the guys walk me back to the hotel because it would be dangerous to walk alone in a foreign city, especially as a girl and it being almost 2am.
I was awoken an hour or so later by my friend Camden walking in saying "Mermaid Emily are you awake" and from what I remember, I barely was. I grunted and rolled back over, re-adjusting my eye mask and falling back into a comfy and cozy sleep.
Em
P.S. My friends got a noise complaint that night but from the leftover videos I'd say they were having a ball! When in Glasgow, am I right?