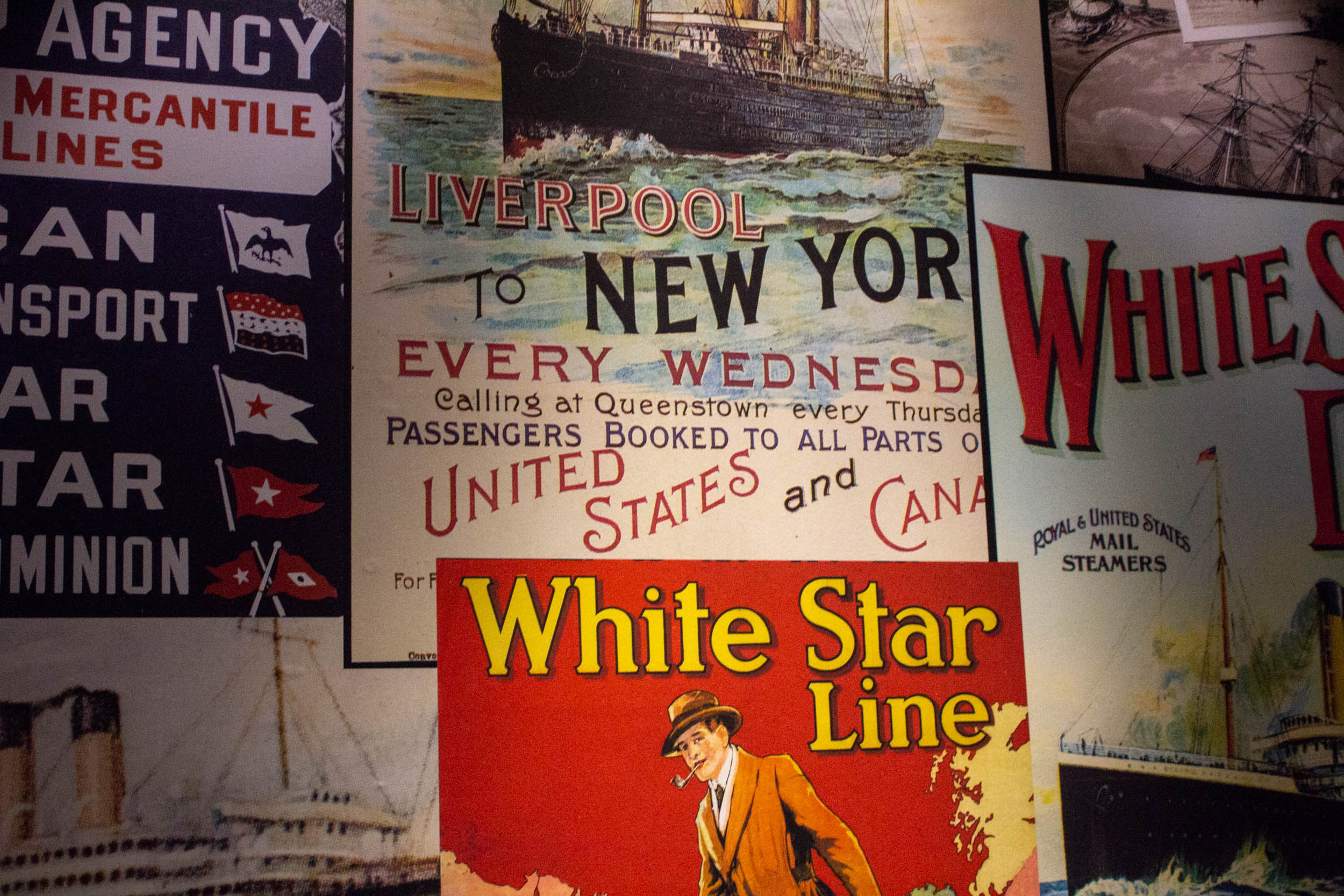 Day 19: Saturday Ferry to Northern Ireland
When my family and I go deep sea fishing, I usually start the early morning with a Dramamine patch that rests behind my ear, saving me from a seasick fate. I did not have this luxury today nor did I even think about it. We woke up and drove two hours to a ferry, where the ferry would take us about two hours to get to Larn, which was a port in Northern Ireland. We  boarded the coolest and fanciest ferry I have ever been on that had a restaurant, café, tv room, and other stuff I would have never thought to put on a short trip ferry.
We got on the bus to head to Belfast and we were all more than pleased. It was double the size of the buses we had been riding on and far more luxurious. By luxurious I mean, we get two seats for ourselves, which is a blessing because we can put our backpacks in the other spot and then lean on them for a solid sleeping space.
It didn't take long to arrive in Belfast. I had heard somethings, but not too much about the city. I knew they had had a controversial history, which was pretty recent at that. And I also knew that this was a big spot because of the Titanic Exhibition and Game of Throne's primary filming location.
After we arrived at yet another Premier Inn (which I loved because it was no normal and consistent), I dropped my stuff and attempted to go grab a bite. Our professors had informed us that the next few days were going to be jam packed with Game of Thrones tours, so if you were going to see the city, now was the time to do it. As a big fan of the movie Titanic, I reaaaally wanted to visit the exhibition in the Titanic Quarter of Belfast. This was not where she had made her maiden voyage, but it was where she was built and constructed in the shipyard.
We attempted to grab a bite and I say this because my friend Hannah and I left our group to find a faster bite, particularly because we knew the service was incredibly slow and we only had three hours before the exhibition closed. We inhaled what seemed like the greasiest burger in all of Belfast and Ubered to the exhibit.
Now, Hannah and I came into some luck today and here is why. Our Uber driver informed us, while we were driving over, that across the way from the exhibit was a pile of shipping containers stacked on top of each other, that actually was put there to block out people from seeing in to the GOT set.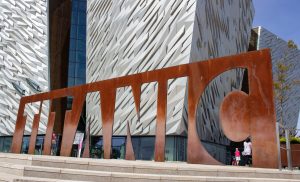 We went into the exhibit and paid our 18 pounds. We walked all through the several stories, learning about the heroes of the famous sinking as well as see what some of the old dresses, rooms, china, carpet, curtains and appliances looked like abroad the ship. The exhibit took you on a tour of several stages from the making of Titanic to her sinking and the media following it. We walked past a replica of one of the lifeboats and it was big, but we learned they were not even filled to capacity. The one moment that hit me was when we walked through the sinking part of the exhibit. The walls were painted a dark blue with wavelike lights drifting over the walls. The sound of old survivors were telling their accounts from a recording that played over the speaker, and the Morse code telegraphs from that night were written on the wall.
Over the trip, our Media Tourism class as kind of looking into an ethics situation. Yes, some things like Titanic and her history bring some tourism to Belfast, but then again is it morally acceptable to be selling tickets and making money off a massive tragedy? I really felt this when I walked through the gift shop, which sold souvenir keychains and magnets and the works with Titanic plastered valiantly on them. This was an interesting topic to me that I pondered for the remainder of the trip because it really is an ethical question that can be seen as both right and wrong.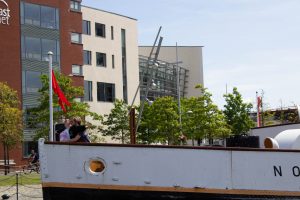 Anyway, after the tour, Hannah and I walked towards the shipping containers that our lovely and informative Uber driver had told us about. Sure enough, a guard stood at an entrance watching us as we strolled by. There was literally no one else on this road and it was completely dead. Massive buildings were on either sides of the street. The fence was woven in with black tarp and trailers covered every inch of view. Luckily, Hannah and I crouched below  and saw some of the Kings Landing set, which was soooooo cool. SPOILER: one of the windows had soot so there was a fire. The question as to whether this matters in the slightest is still unknown and will be until 2019.
Signs covered the fence that said "No Loitering" and "Photos and video are Illegal/prohibited" and "Drones are Illegal here" type stuff. They take spoilers very seriously in Belfast.
We walked to a nearby hotel so I could get wifi and order an Uber. This is where it gets even more interesting. I get the notification that the Uber is one minute away, so I check what kind of car it is to know which one to walk up to. A black Mercedes is shown on my screen and that this moment I felt extremely bougee for getting a black Mercedes without the charge of getting a black Mercedes. We got in the car and our driver asks how we like Belfast and we tell him how excited we were to peer into the Game Of Thrones set.
He said, "Oh, I work for them"
Hannah and I both exchange a wide eyed look. "How so?"
He said, "I drive for them."
He later explained that he got the job because of his car and he basically picks up the actors from the set or some the airport and takes them around the city of Belfast. He was talking about how Kit isn't really very big in person and how they are all very kind and humble actors. We dig deeper and ask if any had been in that car and he said yes so we freaked out for a minute. After, we dug a little deeper and asked if any of them were still in town. Our other friend, Madison, a mega fan, had informed us that Kit's wedding was coming up (in Scotland Ironically right after we had just left from there) and they were all probably going to be in attendance. He tells us that there is one in town and its Maisie Williams. Me and Hannah freak out and get so excited just because we were in the same town as Arya.
That ride was one of the coolest things ever. We pick up some sushi on the way back to the hotel and went our separate ways to finish up some homework and begin some of our final projects.
My room wasn't ready until hours after we had arrived in Belfast, so it felt amazing to put my heavy backpack down. When I walked in, I noted that my new roommate, Maddie, had given me the queen bed in tour room. I was overwhelmed with joy and I thanked her profusely. I turned on a show my friend Sarah had gotten me on to, Love Island, and watched an episode of the British reality tv show before I started my work.
It felt amazing to spend the night in and shower and go through a full night routine. I got a decent amount done and even got ahead on a photo submission for my photography class.
I fell asleep content, with sunburn and wet hair, but none the less content.
XO
-Em