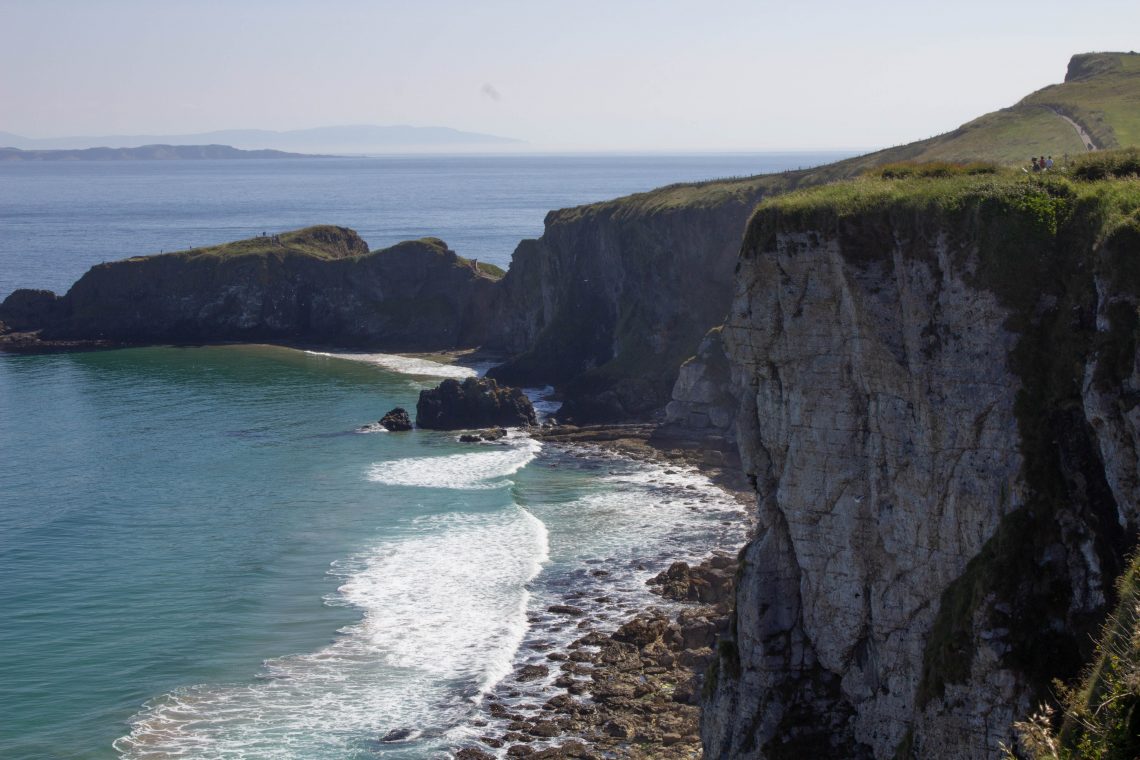 Day 20: Game of Thrones Tour & the Carrick-A-Rede Rope Bridge
I'm fairly confident in saying that this was positively my absolute favorite day on the trip. Our day began earlier than usual as we loaded up on a bus around 7:30 in the morning. We were greeted by our tour guide who had long hair and a beard that was most 8 inches or so long. We were very much in character for game of thrones, to which we later learned he was an extra on in a lot of scenes. He gave us SO much information and hilarious re-enactions, which made a bus tour all the more fun.
Heading to our first destination, we passed this big clearing where Game of Thrones filmed the outside scenes of "The Wall". Yes, most of it is CGI but they literally have this big clearing as tall as the regular "Wall" in the show, with a very small area painted white. They use this area for the outdoor scenes in Winterfell and when people are going up the elevator of the "Wall".
Our first destination were these small, white steps that led into the water. It looked like half a circle with steps that looked aged that led into the water. This was where Arya bursted out of the water after she had been stabbed in one of the later seasons. They said they filmed only a few seconds of the scene on these steps in Northern Ireland, and the rest of it was filmed in Spain. It blew me away that the directors for Game of Thrones go to such lengths just to get the most perfect location for their scene.
The second location we ventured to was this little, quiet town off the coast. I say "quiet" because there was not a soul outside. I could hear the small waves that come from the sea lapping against the rocks that made up the shore. We walked to this beautiful rock formation on the beach, and this was where Melisandre gave birth to her little, shadow demon baby in GOT. It was honestly one of the most beautiful places I had ever seen. I could see myself sitting on a rock there, alone, reading a book and watching the sun go down. It gave me serious mermaid vibes and I long to go back there, just to lay in the water and float contently.
After we got back on the bus, we ventured to my favorite part of the whole trip: The Carrick-A-Rede Rope Bridge.
This was a famous rope bridge that connected two cliffs on the coast of Northern Ireland. It was about a 20-minute hike to get to but well worth it. We each had the opportunity to walk across the bridge, high up off the ground. It was magnificent. It was beautiful.
The waved crashed against the rocky shore. We were so high that we could even see the cliffs of Scotland, just 19 miles away. It was crazy to me how close they were to one another.
The water was a deep, royal blue, but a crystal turquoise in the shallower areas. I would have given ANYTHING to slip into a swimsuit and jump into the water.
There was this massive cave that sat just below the rope bridge. It was honestly so romantic to me. I could just imagine a honeymoon night on that beach, just listening to the sound of the waves lapping against the shore, under the moon and the stars… it would be so magical. This place was unlike anything I had ever experienced. It was grand and beautiful and perfect. I would give anything to go back there with someone I love and bask in the romance.
Anyway… we took quite a few pictures and then boarded back on the Game Of Thrones tour bus once more. I watched as we drove away from the beautiful location until it was gone from view.
Next we went to these rocky seaweed beaches where we all dressed up in Iron Islands attire and posed for pictures with our swords. These were Iconic. GOT filmed many of the Iron Islands scenes here but I was mostly obsessed with how badass I felt with a sword.. that was almost as tall as me.
Our last stop on the GOT Day 1 tour were the famous "Dark Hedges". This was a famous road in remote Northern Ireland where massive trees stretch beautifully and cinematically across a single road to create the ultimate driveway. In GOT, this road was used to be "The King's Road" and it was used to create the final scene for one of the episodes. It was beautiful and I scored a few good photos, but there were so many tourists that it easily ruined the photo. But nonetheless, I am happy I got to experience it.
After a couple hours back on the bus, our day came to a close and we rolled up to a bustling part of Belfast. On the way home, I split from the group, fueled by my intense craving for carry out Japanese food. I happily found and bought dinner, and then navigated my way home off of vague directions my professor had given me. It took me longer than normal, considering we had only been in Belfast for a day, but eventually I found our familiar hotel in Belfast: The Premier Inn.
Exhausted from walking, I ate my cuisine watching an episode of Love Island, and showered.
Before I passed out, I got a call from my friends telling me to come meet them around the corner at a pub. Not caring, I slipped on a white shirt and Nike shorts, completed with Sperry's.
I found them a few drinks in, where I then decided to try my first Guinness.
It came out black and thick… I shook my head to my friends as I tried it for the first time and said "No, this is not for me." Honestly, I did not finish it. I ordered a Pino Grigio and began my night.
After they finished eating, we went downstairs to join the rowdy Northern Irish crowd as they sang along to familiar, American songs. We drank beer and cheersed with them underneath industrial string lights and lots of laughter. Once again, I called my night early and walked back to the hotel around the corner. Happy and full of lager, I passed out on my queen bed, comfier than a bug in a rug.
XO
-Emily