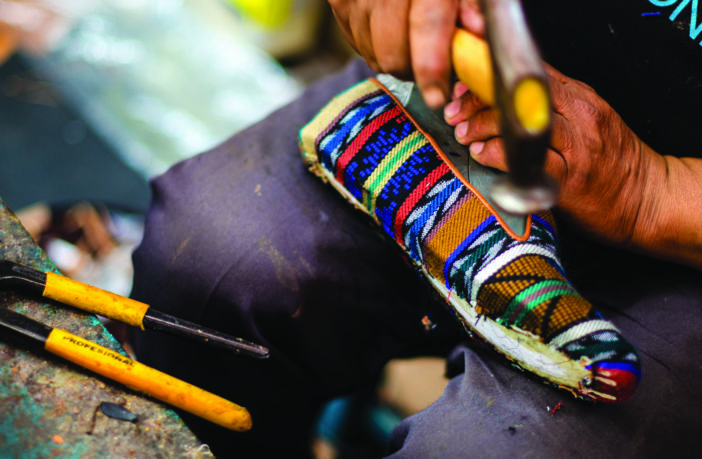 Carefully sewn in blue stitching on the bottom corner of a Tew Teg towel are the words "Proudly made in Austin, TX." No, the tag doesn't just read "Made in Austin, TX," but instead, Tew Teg towels are "Proudly made in Austin, TX."
"We do all of our cut and sew here in Austin at Open Arms with women refugees, paid a living wage," says CEO of Tew Teg Marc Ostryniec.
Ostryniec, one of three men who founded the company, says they chose to work with Open Arms because they wanted to include a philanthropic element to their simple product, which is a towel made with a hood and chord to go on a car seat after a workout.
"This kind of gave us both things, you know. Instead of trying to tie to a specific charity or philanthropy, we would rather focus on doing it here, keeping it in Austin, working with great people," Ostryniec says.
One of Tew Teg's goals is to be a successful outcome for Open Arms, says Ostryniec.
Open Arms Studio is a nonprofit textile manufacturer and is one of three social enterprises part of the Multicultural Refugee Coalition, which provides livelihood opportunities for refugees, says CEO Meg Erskine.
Most of the women refugees working at Open Arms are from Burma, Afghanistan, Congo and Mexico, says Erskine.
With an additional focus on sustainability, Open Arms offers their employees opportunities for upward mobility and flexible hours.
"It's just lovely to work with a bunch of women who really support each other, and it's safe and dignified," says Erskine.
In another corner of Austin lies Austin Creative Reuse, which is a nonprofit center that focuses on collecting and reusing materials instead of recycling them, says interim executive director of Austin Creative Reuse, Cory Skuldt.
"If we can reuse something in its original form and avoid buying something new and manufacturing something new when we don't need to, we will really decrease our environmental footprint," says Skuldt.
With Austin being home to a diverse community with a variety of interests, the center offe
rs opportunities to connect sustainability with creativity, which, according to Skuldt, has received a positive response.
"We're really more than just a store," says Skuldt. "We're sort of a community hub for folks who are interested in reusing."
The center focuses on reusing, educating and creating through activities and events such as a community craft night, workshops for kids and educator meet-ups.
When the center was created 10 years ago by founder Rebecca Stuch after she visited reuse centers in other cities, Skuldt says Stuch thought it would be a great fit for Austin.
"We believe that every object and every material has value, and it can find a second or third or fourth life after it's been used in its original purpose," says Skuldt.
One of the center's main ideas is to foster creative ways for people to connect used objects with their new purpose.
"It's such a perfect fit for a city like Austin," says Skuldt.
Even though its team is global, Teysha, a footwear and home goods brand, will always consider Austin its home base, says co-founder Sophie Eckrich.
"Teysha" is historically a word attributed to the Caddo-indigenous culture that was once part of the southwestern United States, says Eckrich.
According to Eckrich, as the legend goes, when the Spanish people were coming to Texas, and when they asked where they were, the Caddos would say something along the lines of "teysha," meaning "friend" and "ally."
Later, the word "teysha" became pronounced as "Tejas," which became Texas, says Eckrich.
"Teysha is an ethical fashion brand and company that works with artisans primarily in Guatemala to make handcrafted goods and really use those as a bridge to spark conversations about different cultures and art forms," says Eckrich.
After graduating and not finding the perfect job, Eckrich says she decided to create the company, because it blended her passion for working with people in Latin America with making an impact in the community.
The social enterprise is considered a platform to make an impact, not only on people in Latin America, but also on their customers around the world, says Eckrich.
"The Teysha way really is to live and be open-minded," says Eckrich, "and to work with whatever the resources that you have, to make a positive impact on those around you."
Founded seven years ago, Teysha products are primarily influenced by where they're made in Guatemala, mixing cultured prints with vibrant color.
The shoes are entirely handmade by different artisans who specialize in each part of the production.
"We have a very extreme dedication to the way our shoes are made and the people who make the shoes, and that really comes first and sets us apart," Eckrich says.
Teysha shoes go through an extensive production process that includes cutting the leather and textiles, sewing and making the sole of the shoe.
"Each pair of shoes goes through 6-10 pairs of hands before it reaches you," Eckrich says.
She says the communities that Teysha works with in Latin America also share many similarities to communities here in the United States.
"If we can use a product like a shoe, or whatever the product may be, to foster more understanding and humanization — then we believe we can help create a more peaceful world," Eckrich says.