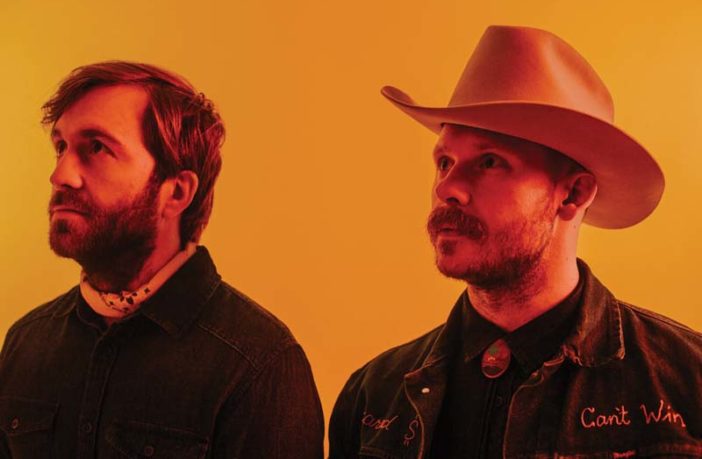 You wouldn't typically think that music and physical health go hand in hand, but they do. In order to ensure a successful tour, singer-songwriter duo Andy Baxter and Kyle Jahnke of the indie/folk band Penny & Sparrow make health and fitness a high priority while traveling from city to city.
After both of them grew up with a passion for music, Baxter and Jahnke decided to pursue a full-time career in music after meeting at The University of Texas at Austin and playing gigs around the city.
"We had a healthy diet of country music and classic rock," Baxter says. "If you learn to love and hunt down music when you're younger, I think that it sort of stays with you — and it stuck with us since we've gotten older."
It's safe to say that music and lyrics have been a massively important part of both Baxter and Jahnke's lives. The duo even considers making music to be a cathartic and emotional avenue, Baxter says.
"It's almost always a part of whatever we're doing — both of us. I say that with confidence, because at one time or another, Kyle and I and our wives lived together in the same house, and there was just always music in the kitchen, always music on when we're working out, always music on in the morning with coffee… it's pretty consistent," Baxter says.
As the pair's passion for music has grown and evolved over the years, so has their passion for health and fitness.
"We try and make it as much of a priority as we can," Baxter says.
While the duo is on tour, Baxter and Jahnke do their best to include movement and fitness into their busy schedules.
As most hotel gyms are usually limited to a few dumbbells and cardio machines, Baxter and Jahnke make do with what they can. If the variety of exercise equipment is super limited, Baxter and Jahnke will do bodyweight workouts and go for runs outside, Baxter says.
"I can feel the effects pretty much everywhere else. It's kind of like a holistic feeling, being able to work out," Jahnke says.
Growing up, both Baxter and Jahnke played sports and enjoyed exercising, which carried over into their adult lives.
"I've always enjoyed lifting weights — enjoyed pushing the body and trying different things," Baxter says. "I've done pilates, yoga, bikram yoga. My wife was a yoga and pilates instructor, and so I try a bunch of different stuff when it comes out."
One workout fad that Baxter has particularly taken to is CrossFit, which is something that both he and Jahnke do while on the road.
"I fell completely head over heels with not only trying to put the right stuff in my body, but also the new system, like a new rubric of working out that CrossFit offered — I thought that was great," Baxter says. After getting his certification, Baxter trained and coached at CrossFit City Limits here in Austin for just over four years.
While on the road, Baxter says he will still occasionally pop into CrossFit gyms to indulge his love for a CrossFit workout. If they can't make it to a gym, Baxter and Jahnke will do bodyweight circuits together.
"I mean, it literally is a buffet in terms of style, and it's all predicated upon what we have access to at the time," Baxter says.
One of the primary reasons the musical duo makes health and fitness a priority while touring is sanity, Baxter says.
"This job is not necessarily conducive to health, in and of itself," Baxter says.
He's right. While on tour, Baxter says he and Jahnke are up very late at night, constantly in a new setting and, for a lot of the time, sitting in a van all day.
"We realized that, for the sake of not only our own personal sanity, but the longevity of this job — like, we drink a lot," Baxter laughs. "So, because of that fact, we want to make sure that not only are we watching that, but we're paying attention to what food is on our [food request sheet]."
Baxter says both he and Jahnke want to maintain their health as they age so they can continue music for as long as possible. For their green room spread, Baxter and Jahnke usually request healthy foods such as fruit, vegetables and a small meat plate. If they are eating out, the duo will opt for a vegetarian option or split meals.
"There's just so many opportunities to eat poorly on the road," Jahnke says.
If the guys miss a workout or indulge in an unhealthy meal or two, they definitely feel a difference, Baxter says.
"Not only is morale better, but there's a certain degree of accomplishment that you feel when you have used your time wisely, and that's the thing that sticks out in both Kyle and myself," Baxter says. "That translates into a lot of joy."
Since working out causes a natural endorphin rush, Jahnke says he and Baxter are more likely to have a smoother songwriting process if they keep up with their health and fitness.
"Getting home and even on the road, being able to destress by working out is the biggest, huge thing — definitely helps the creative process. The better you feel, the easier it is to write," Jahnke says. "It's just a good rubric of our overall health — creative health as well as body health. I feel like they kind of go hand-in-hand."
Baxter echoed his musical counterpart. "We're glad of the fact that, when we're in seasons of good body health, we're usually in seasons of good art health," he says.
Even though he says he wouldn't put himself in the "driver's seat of wisdom" when it comes to fitness, Baxter's advice to similar, busy-bee Austinites would be to make sure you're moving your body daily.
"You've got to say, 'Okay, if all I've got is 30 minutes after breakfast, then I've got conference calls,' then take your conference call on a walk," Baxter says. "Just move your body, go get outside, get in the sunshine and move and try and sweat. That to me has this accumulating factor. The more that you make that a regular part of your routine, the more easy it is for you to make the transition into prioritizing other fitness."
Even though both Baxter and Jahnke have done their best to make health a priority, they still give in to an occasional Taco Bell run at 1 a.m. after a show.
"The ratio to Taco Bell at the beginning compared to the end is pretty big," Jahnke says.
The duo's motivation to make healthy food choices will sometimes taper off around the end of their tour, Jahnke admits. However, even though their willpower for food may cease, the Penny & Sparrow duo will still continue to get up and move every day of the tour, he says.
"I think that throughout all of it, we usually stay working out and stay moving, just because we've seen such an effect of keeping that going throughout touring — it's definitely something worth talking about," Jahnke says.
Photo provided to AFM. Credit to Noah Tidmore.