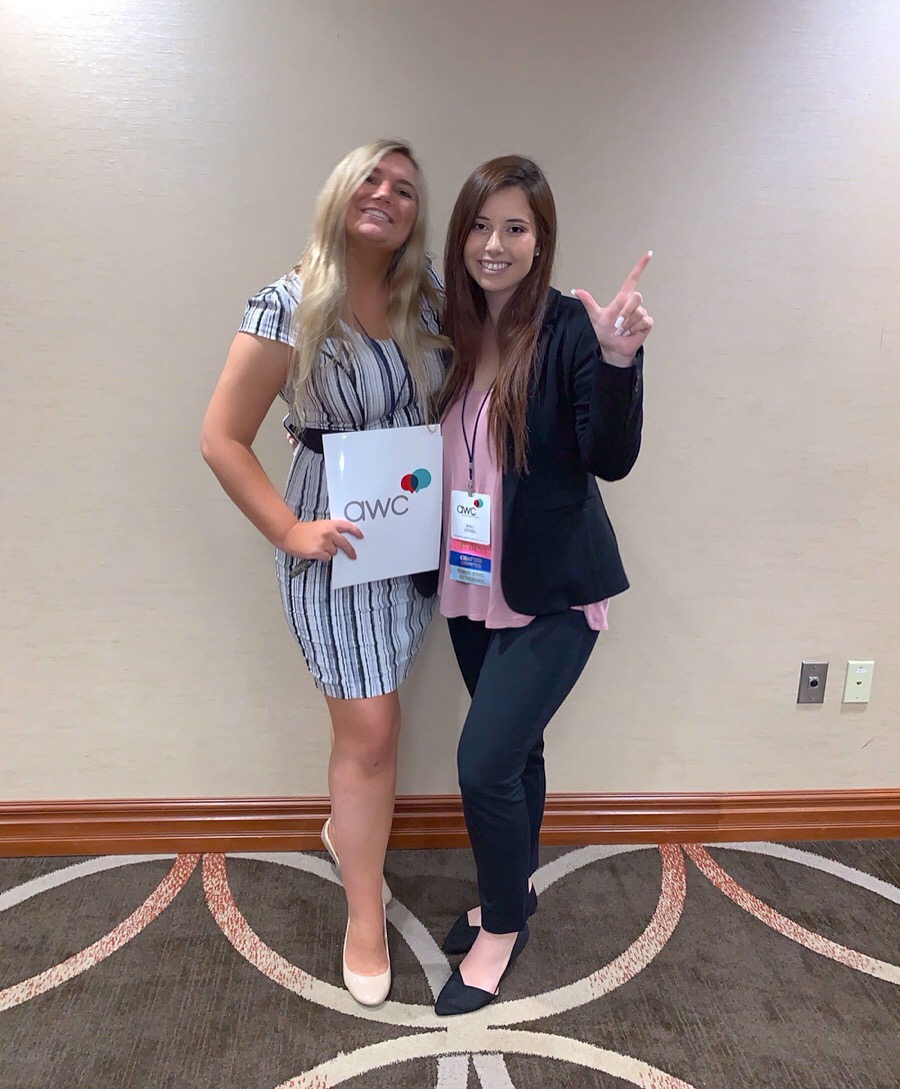 A Student's Perspective: Attending the 2019 Association for Women in Communications National Conference
As a student, the thought of a "national conference" with breakout sessions and white tablecloth (let alone in another state) is initially intimidating, especially because the only time I have ever "attended" a conference was when I accompanied my mother to her work conference (and I stayed in the hotel room) many years ago.
I'd had an idea of what to expect, but having never truly attended a conference, the only thing I knew for sure was the requirement to dress in business professional.
It was still dark when I left the house at 6 am that Sunday morning. My eyes were still puffy from waking up so early (as a current college student, any activity before 8 am seems like a foreign and far away concept to me). My roommate graciously dropped me off at the airport and after 15 minutes, I was through security and meeting up with my fellow chapter officers: Sarah Cardona (our chapter president), Sarah Blackshear (our chapter vice president) and Taylor Plate (our chapter treasurer). I was happy to see I wasn't the only one only half awake.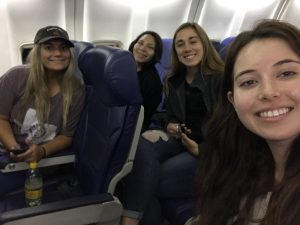 After we arrived in St. Louis, Missouri, my fellow officers and professional chapter members went to explore the quaint town of St. Charles which consisted of picturesque brick roads and the occasional, pleasing whiff of baked bread.
Once we got back to the hotel, our group immediately went in to our first meeting. Slightly embarrassed that I walked into the first meeting of my first professional trip sporting a jumpsuit that exposed my bare shoulders, as soon as the meeting finished, I ran up to our hotel room to quickly change into more professional attire. After, my fellow officers and I headed back down to the AWC Happy Hour.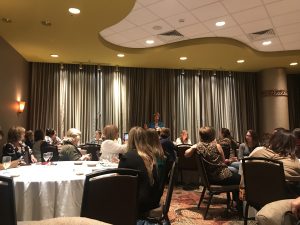 Even though I am currently taking classes within TTU's College of Media & Communication, the idea of networking was still a new and unfamiliar concept to me. Even though I have been involved in a sorority and part of the student chapter of AWC for 3 years, the thought of interacting with older, accomplished and impressive women was very intimidating to me, especially since being a "young professional" was a new shoe I was still breaking in.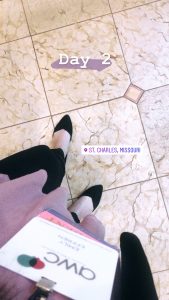 As the night went on, the women became more comfortable and open to sharing their stories and how they came to be in the position they are now. Piling in to the hotel's shuttle heading to Bella Vino, laughter erupted and everyone was having a good time. All of the women were kind, warm and most of all – supportive. Before the trip, I had (for the first time) made business cards and by the end of the night, I had already handed out five. By the end of the night, the "young professional" shoe was getting more and more comfortable to wear.
I went to bed Sunday night bubbling with excitement for the upcoming days. I was excited to learn from these women and grow from their stories.
Waking up on Monday was far easier than waking up the previous morning. Our alarms went off at 6:30 am and by 7 am I was already freshly showered and in the process of applying my makeup.
Hearing Lyn Watson's motivational speech in the morning was exactly what I needed. Her contagious smile and relatability was comforting to see and hear. As the day progressed, we all split up for our breakout sessions which is one of the parts of the conference that I was most excited for.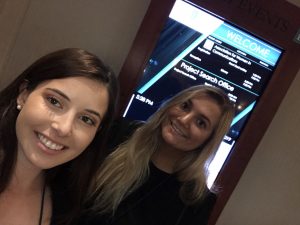 One of my favorite parts of the Personal Branding & Effective Marketing session was when one of the speakers was discussing what her "magazine cover" would be. We all did a little exercise to picture what we want on our own magazine cover and what we would want the world to know about ourselves. We were told that what we pictured in our mind was what we wanted our brand to be. I adored this exercise because it forced me to narrow down my goals and put them in writing. My other favorite part of the session was learning all about building a brand and how fiercely people stick to it to be successful. It was easy to see every woman's passion for their careers as they engaged in the meeting, asked questions and shared their own stories. I left the breakout session feeling so inspired, especially because I got to see AWC women from all ages asking questions and gaining knowledge. This showed me that everyone had a thirst to continue to grow no matter the stage in their life.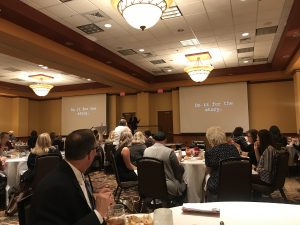 As a writer, it was so inspiring that our afternoon keynote was the witty and feminine Starshine Roshell. Beginning a career into the slightly terrifying and unknown abyss that is journalism, listening to Starshine and her stories furthered my passion for writing and storytelling. She was everything I wanted to be: strong, fearless, passionate and even with a little humor sprinkled in. She was the Californian version of the Carrie Bradshaw I had grown up watching (and idolizing). Listening to her adventures and advice was absolutely the highlight of my AWC experience. I loved every minute of her speech (now I'm just wishing I had recorded it).
Following Starshine's speech, I attended the Digital Content breakout session. The speakers highlighted authenticity and transparency, which I absolutely agree with. One idea that stuck out to me was that, even if you don't love a specific social media platform, that does not mean that millions of other people are not using it. This spoke to me because, personally there are a couple of social platforms that I don't use, but it never occurred to me to use them or utilize them for other audiences.
Throughout both of the breakout sessions, the dinners, the speakers and everything in between, I learned so much from this conference and met so many amazing and wonderfully driven women.
The 2019 AWC National Conference was such an amazing opportunity. As a young professional, I appreciated everything it took to get me and my fellow student members to Missouri and attend the conference. I know every one of us are so grateful that we got to be part of such an inspirational event. Seeing so many impressive and supportive women gather to share ideas, network, learn from one another and be so ready to learn at all ages was such an exciting experience. Attending the conference fueled my passion for my career and excited me even more for the opportunities and adventure that lies before me. If I can achieve even half of what these women I am proud to call my AWC sisters have achieved, then I will know I have attained success.
From the student chapter of Texas Tech University, we thank each and every one of the members of the Association for Women in Communications for allowing us to be part of this special experience.
More photos from the trip: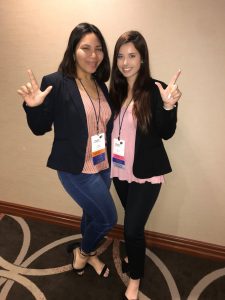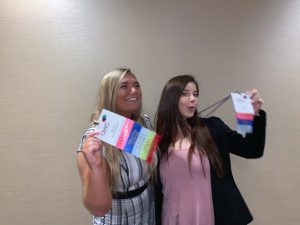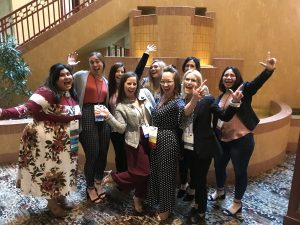 Previously published on the Association for Women in Communication's blog Trending.