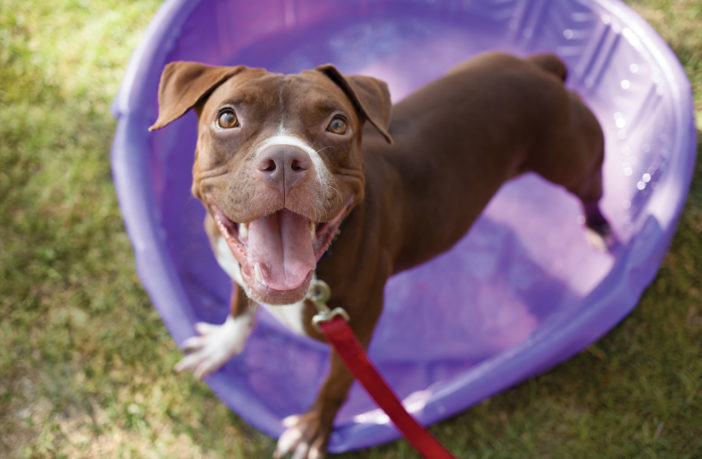 Being an outdoorsy city, Austin is one of the most dog-friendly and dog-happy places in the world. Running around Town Lake? Bring your dog. Exploring through downtown? Bring your dog. Spending the afternoon at Zilker? It would be weird if you didn't bring your dog.
However, the journey from just-born puppy to human companion isn't always smooth and turbulent-free. Many dogs don't have the luxury of being born into a loving home, and under varying circumstances, some become strays and never get to find a home — or "forever home," as Katera Berent, the public relations and events manager for Austin Pets Alive!, calls it.
"You're saving lives," Berent says. "Dogs and cats in shelters — they are given a second chance by being in the shelter from whatever situation they were in before, and by someone rescuing or adopting an animal, they're saving that animal's life."
According to the ASPCA, even though there are fewer euthanizations than there were in 2011, there are still 1.5 million shelter animals that are euthanized in the United States each year.
As Travis and Williamson county are no-kill counties (animals are not at risk for euthanasia), by adopting an animal from an animal shelter, someone has the opportunity to save not just one, but two lives, since doing so frees up more kennel space for another animal that is at risk to be euthanized somewhere else, Berent says.
However, only 23 percent of dogs are acquired from an animal shelter or humane society, while 34 percent of dogs are purchased from breeders, according to the American Pet Products Association. The remaining percentages included acquiring the animals through family, as a stray or other circumstances.
"Rescuing allows you to save a life, but it also allows you to give a dog or cat a second chance and give them the deserving home — the loving home — that they deserve and that they need," Berent says.
Many people choose to buy breeded animals instead of rescuing because of common beliefs about animal histories and certain behavioral traits, Berent says. For example, some dogs, bigger dogs especially, are thought to have aggressive tendencies, when in fact, most are good-natured with unique personalities.
"It's a common misconception that when you adopt an animal, you know nothing about it —  that's simply not the case," Berent says.
Working with the animals in the shelter every day, Berent says that even though the Austin Pets Alive! staff and volunteers may not know all of their animals past experiences, they truly get to know each animal's personality so they can pair them with the best future family.
"We know what they like, what they don't like, what their favorite toys are, [what]their favorite treats are," Berent says. "We know how they do on leash, we know what walking equipment they need, and we know how best to serve them and what homes they will thrive in."
In addition, Berent says that this common misunderstanding causes big dogs in shelters to get adopted at a lower rate because of these false ideas or stigmas surrounding certain breeds like pit bulls and German shepherds.
"So there's, you know, rumblings that you hear or have heard in the past attached to pit bull-type dogs when, in reality, they're just dogs who are eager to learn and know people and know love, just like any other dog," Berent says.
Berent's not wrong. The dogs most commonly found in animal shelters include big dog breeds such as German shepherds, labradors, Staffordshire terriers, boxers and bulldogs. In addition, topping that list and considered to be the most common dog breed found in shelters or humane societies is the American pit bull terrier, according to barkpost.com.
Every dog has a unique personality and is individual from the historical discrimination their breed has faced, Berent says.
In the past, Austin Pets Alive! had a "resident piglet," whom Berent referred to as "Mercedes." Mercedes was a pit-mix who had been getting looked over for years, until finally, in 2019, she was adopted to a loving family.
Another staff favorite and bigger dog was Spot, who was also a pit bull-mix and had unfortunately been looked over, similar to Mercedes. Even though Spot made the news, a celebrity's Instagram and looked as if he had a permanent smile on his face, Spot kept getting looked over until this past autumn when he finally got adopted, Berent says.
Even though some adoptions take more time than others, Berent says that one of her favorite parts about working in an animal shelter is seeing animals become part of a new family.
"It's a bit bittersweet of course, because you get to know them and love them, but seeing them find their forever home — there's not really a comparable feeling to that," she says.
Previously published in Austin Fit Magazine.  (header photo provided by Austin Pets Alive! to AFM for my article)