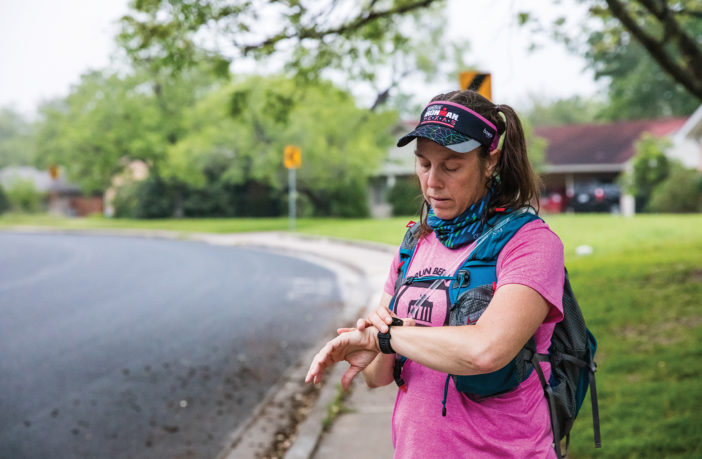 Local endurance athlete helps deliver necessities amongst COVID-19 pandemic — on foot.
It doesn't take long into a conversation with CC Rowe to realize she is an asset to the Austin community.
Not only is she admirably authentic and undeniably hilarious, but Rowe has figured out how to give back to her community while getting her running mileage in.
Living in Austin for over 20 years, CC Rowe is not only a triathlon/running coach and sign language interpreter, but Rowe is also a major endurance athlete (we're talking Iron Mans and Ultras, here). Newly added to that list is on-foot-courier, which Rowe began doing just over a year ago after getting involved with her "Buy Nothing" neighborhood Facebook page.
"The goal of it is to keep items out of the landfill and out of predatory thrift stores and keep it in the community," Rowe says.
According to the national organization's website, the Buy Nothing Project's mission is to be "a way to give and receive, share, lend and express gratitude through a worldwide network of hyper-local gift economies in which the true wealth is the web of connections formed between people who are real-life neighbors."
The Buy Nothing Project Facebook groups allow for members of communities to reach out for items in the form of "asks" and/or to give up items in the form of "gives." But for items to get from one destination to another in a neighborhood, there are couriers. Enter: CC Rowe.
"About a year ago, I started offering up being a courier, and I was just like, 'Hey, I've got four or five or seven miles to run. If anybody needs something, I will go and pick it up and drop it off for you,'" Rowe says.
It wasn't long before Rowe was running around her neighborhood with "pickups" and "drop-offs"  bouncing in her backpack.
"You just see the kindness of your neighbors, because even if it's not something you can give, somebody else can," Rowe says.
Having carried everything from clothes to markers to bluetooth speakers, Rowe has continued to be a courier around her neighborhood even after her old hydration pack fell apart on one of her runs. Now, Rowe says she is equipped with a 15-liter hydration pack that provides significant support and sturdiness while she's picking up and dropping off items.
"The whole project is inspiring and heartwarming, and it just makes me go, 'God, I'm so glad I live here and I can be a part of this,'" Rowe says.
Since the World Health Organization deemed the coronavirus (COVID-19) to be a pandemic, life changed dramatically for most Austinites, causing them to social distance and spend more time at home — especially those with underlying conditions who are more at risk. Rowe's couriering became much more important to the community.
"I started upping my gives in the last couple of weeks, because you know we have — oh, there's a lot more going on," Rowe says.
Rowe began running more to help deliver items such as hand sanitizer, wipes and facemasks among the other items she couriers.
Before going on a run, Rowe says she will post on the Buy Nothing Facebook page how many miles she is planning on doing and what parts of the neighborhood she will be in. From there, members of the page will comment what their "asks" and "gives" are and where they are to be picked up and delivered. From there, Rowe will set her map.
However, similar to many other procedures since the beginning of the COVID-19 pandemic, the way Rowe conducts her couriering has changed dramatically. Now, instead of picking up and dropping off several items around the neighborhood, Rowe is only doing one pickup and drop-off per each of her runs.
"The request is, you know, make sure you wipe everything down before you put it out, and then, if you can when you pick it up, wipe it down again. So, people are trying to be very respectful about spreading the virus," Rowe says.
As many people are staying to work from home, Rowe says it's been nice to see the members of the community outside during her runs (don't worry, it's from a distance).
"Austin is a community, but we're a big city now, and you don't really get that neighbor vibe anymore," Rowe says. "And we have it here. It's amazing."
If you want to keep up with CC (we sure will!) her Instagram handle is @sisiroe. Or, once the pandemic ceases, be on the lookout in your neighborhood for a woman with a cool tree tattoo, pigtails and her pup, Roscoe, running along with her.
"It's funny, everybody's like 'It's so awesome!' and I'm like — I'm just going on my runs!" Rowe says.
Previously published in Austin Fit Magazine. (*all photos in this article were taken by Brian Fitzsimmons for my article Austin Fit Magazine)